Life Saving Cardiac Care Gives Coach a Second Chance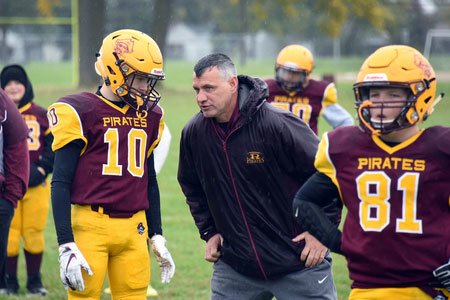 An average day of getting up for work turned into the most frightening experience of Chuck Singleton's life. The 45-year old sports coach and father of four collapsed in the kitchen of his Riverview home after suffering a heart attack. He was rushed to Henry Ford Wyandotte Hospital, where he had two stents inserted into his heart and coded twice.
Chuck then spent three weeks in a medically induced coma in the ICU and his family was told to prepare for the worst. However, the cardiology team at Henry Ford Wyandotte Hospital saved his life and he began making strides toward recovery.
"I started waking up and would squeeze people's hands when they talked to me," Chuck says. "Every day I would do something more."
A Team Approach
The team at Henry Ford Wyandotte Hospital included four doctors — Mustafa Hashem, M.D., medical director of the Cardiac Catheterization Lab; Mark Pensler, M.D., respiratory care medical director; Qaiser Shafiq, M.D., Henry Ford cardiologist, and Fadi Delly, M.D., Henry Ford neurologist — as well as dedicated nurses and other care team members.
"I know doctors and nurses sometimes don't get the recognition they deserve, and I want them to know how thankful I am for them saving my life and treating my family like they were family," Chuck says. "I'm alive because of them."
The Road to Recovery
After undergoing cardiac rehabilitation, Chuck is recovering with a new perspective on life that has inspired several lifestyle changes, including quitting smoking.
"Life is different now," Chuck says. "You think about what you're eating and it makes you want to do things you keep putting off, like going to the doctor."
His wife, Lina, credits Chuck's care team with giving her husband a new lease on life and being there every step of the way. "Dr. Pensler was so wonderful," Lina says. "He was on the journey with us."
Changing Young Lives
An avid sports lover, Chuck coaches Little League baseball and football teams in Riverview, because he enjoys making a difference in the children's lives.
Several Henry Ford Wyandotte Hospital nurses have children on the teams and collaborated to do something special to celebrate Chuck's recovery. The last game of the season was a special highlight as Dr. Hashem and Dr. Shafiq donated an automated external defibrillator (AED) to the football team in Chuck's honor.