Heart Saving Marathon Story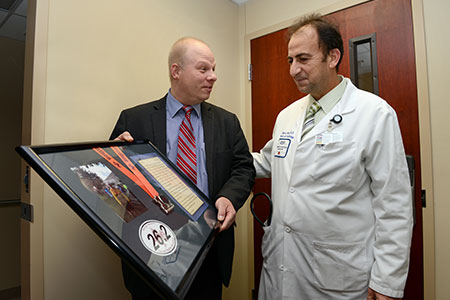 A Gulf War veteran, longtime federal law enforcement special agent, and marathon runner Greg Weglowski never expected to experience a heart attack - and definitely not at 40.
In 2008, Greg noticed he had shortness of breath, pain in one arm and an overall feeling of fatigue, but waited more than six months before seeing his primary care physician, who referred him to Amjad Farha, M.D., cardiologist at the Henry Ford Heart & Vascular Institute. After learning of his symptoms and family history (Greg's father had a triple-bypass surgery at 49 and his mother required five bypasses by age 53) Dr. Farha scheduled a CT angiogram.
Greg's angiogram showed his main coronary artery was 100 percent blocked and two others were 90-and 50-percent blocked, proving he had suffered a heart attack. He had just turned 40.
Dr. Farha and his team opened up the blockages in Greg's arteries and inserted four stents to maintain the restored blood flow. That, and medication, put Greg on the road to recovery.
"I have had a lot of good doctors, but nothing like Dr. Farha. He really listened and really cared for me. I thank him with my life. He is an angel."
Crediting his fitness and diet to staying healthy, Greg stays fit with a doctor-approved mix of weight-bearing and cardio exercise, gradually returning to running. He completed his first half marathon since his heart attack in 2011 and tackled a Tough Mudder obstacle race in 2012.
Grand Rapids Marathon dedicated to Dr. Farha
On Sunday, October 20, 2013, Greg completed the Grand Rapids Marathon, his eighth, and dedicated his run to Dr. Farha. As a result, Greg presented his marathon medal to Dr. Farha on Wednesday, November 6, at Henry Ford Medical Center - Fairlane, in front of the Cardiology staff. He thanked Dr. Farha for saving his life. Dr. Farha was very touched with the dedication.
"I am just doing my job and it is so rewarding to save someone's life," said Dr. Farha.
"I have had a lot of good doctors, but nothing like Dr. Farha," says Greg. "He really listened and really cared for me. I thank him with my life. He is an angel."