A Fresh Approach to Heart Health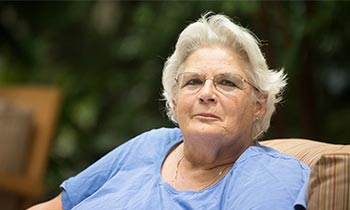 Sheryl Duda was watching the local news while recovering from her fifth, and most recent, heart attack when she saw an interview with Henry Ford cardiologist Deirdre Mattina, M.D. Dr. Mattina's appearance was enough to provoke Sheryl to make an appointment as soon as she could. However, having seen her fair share of doctors across 25 years of heart problems, Sheryl was as nervous and anxious as she was hopeful.
"I'll never forget how Dr. Mattina was the only doctor that sat there and listened to everything I had to say for over two hours," says Sheryl. "At the end of our conversation, she told me she was going to simplify my medication regimen."
Instead of writing even more prescriptions, Dr. Mattina consolidated Sheryl's regimen and made a plan to monitor her body's response to the changes within the next week. In addition to medication adjustments, Dr. Mattina encouraged Sheryl to try a treatment plan that, in 25 years of heart problems, had never been proposed to her before: a plant-based diet.
A Different Approach to Wellness
A plant-based diet is built upon the idea that limiting your meat intake, while making plant-derived foods the main focus, will increase your heart health by limiting your cholesterol and saturated fat intake. A plant-based diet typically includes foods derived from plants, such as vegetables, whole grains, nuts, seeds, legumes and fruit - each of which offer nutrients that are proven to be incredibly beneficial toward heart health, but still allows for meat-based proteins and dairy, as long as they are minimal.
"It was very hard for me to stick with at first," says Sheryl, "but I had to do it for my own health."
Sheryl endured her fifth heart attack on February 11, 2018, and, since March, she has adhered strictly to her plant-based diet, per the suggestion of Dr. Mattina who practices the same diet. According to Sheryl, the fact that Dr. Mattina follows her own advice made this significant lifestyle change easier.
Although there are several new meals and ingredients she enjoys, Sheryl has discovered a couple plant-based dishes that she's grown quite fond of.
"I didn't before, but I eat a lot of salmon and spinach strawberry salads now," says Sheryl.
Shortly after being placed on a plant-based diet, Sheryl also began cardiac rehabilitation – something else that, prior to Dr. Mattina, had never been suggested by another doctor. Twice a week, Sheryl goes to Henry Ford West Bloomfield Hospital where she uses NuStep machines, treadmills and an exercise bicycle to strengthen her heart. Since she began going in April, Sheryl has lost over 62 pounds.
As grateful as Sheryl is for her treatment plan, and the incredible progress she has made as a result, she is most appreciative of her biggest motivator – Dr. Mattina.
"She's the best doctor that anybody could have," says Sheryl. "She calls to check on me, she's proud of my exercise and the weight I've lost, and you can tell she really does care."
To learn more about the benefits of a plant-based diet from Henry Ford cardiologist Deirdre Mattina, M.D., visit our LiveWell blog.