Endometriosis treatment made for you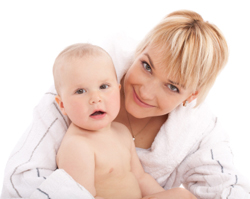 Endometriosis can get in the way of your plans. It can cause debilitating pain and even prevent pregnancy. The gynecologists at Henry Ford understand how vital it is for you to get the least invasive endometriosis treatment that will make the pain go away and take away the threat to your family plans. If diagnosis or endometriosis treatment requires surgery, you'll have the assurance of knowing your Henry Ford gynecologist and technicians are leaders in the field of endometriosis treatment and, just as important, they're people who care. People who'll listen to you, and empower you to make informed decisions about your health.
What is endometriosis?
When the endometrial lining of the uterus attaches itself to organs outside of the uterus, endometriosis is the diagnosis. During menstruation, the endometrial lining is quite naturally shed from the uterus, but in the case of endometriosis, the lining that has attached itself outside the uterus has no way of leaving the body. These lining implants grow abnormally, and can cause pain and discomfort. According to the Endometriosis Research Center, this disease affects more than 7 million women in the US and is the leading cause of female infertility and chronic pelvic pain.
Symptoms of endometriosis
Your symptoms may include, but are not limited to:
Chronic or intermittent pelvic pain
Fatigue
Gastrointestinal problems (bloating, constipation, diarrhea)
Heavy or irregular bleeding
Infertility
Lower back pain
Pain during ovulation
Painful bowel movements
Painful menstruation
Painful sexual intercourse
Painful urination
Diagnosing endometriosis
A laparoscopy or laparotomy procedure is the most effective method for diagnosing endometriosis. Ultrasounds, MRIs, and CAT scans are not effective as endometriosis diagnostic methods. Your Henry Ford gynecologist will consider your symptoms when deciding if a surgical procedure is needed to make a diagnosis.
Endometriosis treatment
The endometriosis treatment recommended by your Henry Ford gynecologist will most likely be one of the following four methods:
Alternative or Natural Therapy: Some women have found different types of natural remedies to use when dealing with endometriosis. Remedies such as vitamins and herbs, diet changes, acupuncture, and Chinese medicine have proven to be useful therapies when managing endometriosis. Talk with a certified dietitian, acupuncturist, or homeopathic physician on alternative ways to deal with symptoms of endometriosis.
Endometriosis Surgery: Minimally invasive endometriosis surgery is used to diagnose, as well as remove growths, relieve pain, and maintain the possibility of pregnancy. Endometriosis surgery is usually done through a laparoscopy or a laparotomy. In extreme cases, a more radical surgery may be the best method of endometriosis treatment.
Hormonal Drugs: In certain approaches to endometriosis treatment, hormonal drugs are given to try to stop ovulation for as long as possible in order to keep the implants or lesions from being aggravated. Hormonal drug therapy is used to minimize symptoms. It is most effective when used after surgical treatment has been done, but can only be used for a limited time.