Lillian Keavey is now able to enjoy her morning walks again.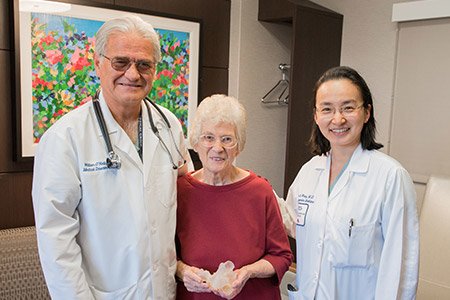 Oscoda's Lillian Keavey has walked with her daughter and her daughter's 9-year-old dog, Jojo, nearly every morning since Jojo was a puppy. The only thing that stopped them was temperatures of -10 degrees or lower.
"We dress for it, so we'd be fine," explains Lillian, a sprightly 82-year-old with a lilting British accent. "But we worry that Jojo's paws will freeze."
The only other thing to hold them up: Lillian's mitral valve. After a bout of pneumonia landed Lillian in the hospital just before the 2018 holidays, her cardiologist told her that her malfunctioning mitral valve was partially to blame for her shortness of breath and not feeling well.
Having experienced replacement of the same valve years ago, she shuddered thinking about undergoing open heart surgery again as an 82-year-old.
"When I saw my cardiologist in Alpena, he was the one who said it had to be fixed," she said. "And I said, "Eww, do I have to have open heart surgery again?' And he said, 'No, I'll send you to Henry Ford.'"
On the move again
On March 27, 2019, Lillian had her mitral valve replaced through a catheter placed up through her groin, or Transcatheter Mitral Valve Replacement (TMVR). She is also Henry Ford Health's 1,000th patient treated with the aid of 3D printing technology.
A 3D plastic model allowed renowned cardiologist Dr. William W. O'Neill, director of the Henry Ford Center for Structural Heart Disease, and his partner, Henry Ford cardiologist Dr. Tiberio Frisoli, to 'see' inside Lillian's heart before the procedure began. The 3D model assisted with choosing a properly sized valve and knowing how to best position it inside her heart.
"The most important part is the planning," said Dr. O'Neill, "There's integral planning that's involved with sizing the valve, assuring that the positioning is accurate and there is no potential for obstruction of blood flow within the heart. The procedure is amazing. And with the aid of 3D printing, it is incredibly effective and very safe with the proper planning. And we've become a leader in medical 3D printing, thanks to Dr. Wang and Henry Ford Innovations."
The 3D printing technology has been around since the 1980s and is used mostly for industrial manufacturing, research and technology development. Instead of ink to print text or images, 3D printers lay down layer upon layer of plastic or similar materials to build a tangible, physical model.
Cardiologist Dr. Dee Dee Wang, M.D., imaging expert and Medical Director of 3D Printing at Henry Ford Innovations, helped design the print used to position Lillian's new mitral heart valve.
"When you hold it in your hand it becomes more intuitive rather than just on a screen," said Dr. Wang. "Our brains understand that better, and that's invaluable for a surgeon going into a surgery or a cardiologist going into a procedure."
Lillian said she's amazed and relieved by the entire process.
"I was very glad to be chosen to have it done because the alternative was another open heart surgery, and I wasn't looking forward to that," said Lillian. "There's a three-month recovery, whereas this one has been just two weeks. It's fascinating. And I'm glad to be getting back to the things I normally do, like walking with my daughter and Jojo."