Heart Valve Repair and Replacement
When a heart valve problem makes daily living difficult or threatens your health, we can provide the care you need. Our experience and legacy of innovation mean we can offer safe and effective options, even if you've run into roadblocks elsewhere.
Sometimes, an operation provides the best solution, with our expert surgeons ready to help. When possible, though, the doctors at our Center for Structural Heart Disease take a minimally invasive approach. We provide relief of symptoms and protection for your heart.
Why choose Henry Ford Health for heart valve repair or replacement?
We most frequently treat aortic valve stenosis (narrowing) and mitral valve regurgitation (leaking). But we care for all four heart valves, whether blood is restricted or leaks backward. We successfully treat a range of cases, from the straightforward to the complex.
When you come to us, you'll find options not always available at other programs, as well as a wide range of clinical trials for promising approaches. You'll benefit from our years of experience providing heart valve care, including for those who can't get help elsewhere. And you'll find a spirit of innovation, established by our director, the renowned William O'Neill, M.D.
Learn more about:
Unparalleled Heart and Vascular Expertise that's All For You
Schedule an appointment with a heart expert, today.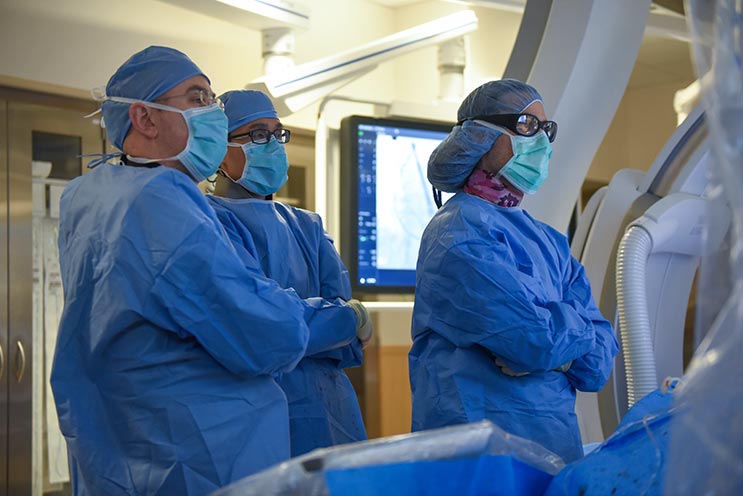 Minimally invasive heart valve treatment
Our doctors try to access the heart through arteries, using thin, flexible tubes called catheters. Taking this approach provides an alternative to open-heart surgery, for safer treatment and easier recovery. We can treat a range of heart valve conditions this way, with procedures that include:
Balloon valvuloplasty: We use this treatment to open thick, narrowed heart valves.
Transcatheter aortic valve replacement (TAVR): Dr. O'Neill performed the country's first TAVR. Since then, our doctors have worked to find new ways to deliver replacement valves, so more people can benefit. We find the best option for you. Learn more about TAVR.
Transcatheter mitral valve repair (TMVr) or replacement (TMVR): We have extensive experience with a device that clips to the mitral valve for minimally invasive mitral valve repair. We're also exploring additional repair devices, as well as replacement valves. In fact, we have the most mitral valve clinical trials in Michigan. Learn more about TMVR.
Transcatheter pulmonary valve replacement (TPVR): For some people, minimally invasive treatment can relieve pulmonary stenosis or regurgitation. TPVR is particularly useful if you had replacement surgery and your new valve wears out.
Transcatheter tricuspid valve repair or replacement: For people who can't have surgery, our doctors are actively involved in developing techniques to repair or replace the tricuspid valve.