Patient's Dream Comes True
Weight loss surgery offers a lifetime of good health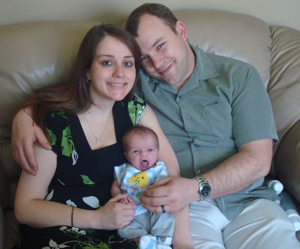 Erin Kuznia always dreamed of having a family in the future but at 5'2", 281 pounds, she knew she was going to have to make some major life changes to ensure she stayed healthy for those dreams. She also knew that obesity has been shown to adversely impact her fertility. Erin battled her weight her whole life and remembers pictures of herself as a four-year-old chubby child. At 26, Erin decided it was time to move forward with bariatric surgery after seeing the success her mother had with the procedure.
In January 2009, Dr. Jeffrey Genaw from the Henry Ford Bariatric Surgery Center, performed the Roux-en-Y Gastric Bypass surgery and Erin's journey into her new life began. A small stomach pouch was created laparoscopically to decrease the amount of food it can hold. The small intestine was reconfigured so that food bypasses the first and a portion of the second segment of the small intestine to limit the calories her body could absorb. By taking in less food and fewer calories, her body was able to lose greater amounts of weight faster than by dieting.
Erin had no idea that her life was going to change so drastically after surgery, not only with her weight loss but with her own love story as well. One month before she was going to have surgery, she met her future husband and a year and a half later they were married. She was a beautiful bride and so proud because on her wedding day, she was the smallest she had ever been. And most recently, the dream of a family was complete when Erin gave birth to a baby boy, Hunter.
Today, Erin has lost a total of 151 pounds and has inspired two of her colleagues to also have bariatric surgery because they saw the success she had. Having the weight off, Erin appreciates the simple things many take for granted, like the fact that she can walk up a flight of stairs and without losing her breath. Most of all, she is grateful to be able to instill in her son, the commitment she made to a lifetime of good health.