Join us as we build the Future of surgical care in our community
Henry Ford Macomb Hospital (HFMH) is leading a bold new initiative to build a state-of-the-art Surgical Center featuring eight operating rooms, new Interventional Radiology suites and expanded Cardiology Services. These pioneering investments strengthen the fight against disease by providing expanded space and specialized equipment for advanced procedures.
Henry Ford Macomb has embarked on a multi-year capital campaign to support the future of surgical care close to home. Become a part of this transformation by investing in our community's health care.
An Opportunity for Transformation
The operating suites at HFMH are currently staffed by highly skilled physicians, anesthesiologists and nursing teams. The current operating suites were constructed 43 years ago, in a vastly different healthcare era. Technology, design, and equipment have all undergone dramatic changes between then and now, with an enormous impact on patient safety, patient experience, physician and staff experience and efficiency.
The Expansion Project will:
Increases the size of current inpatient operating rooms, from 400 Sq. Ft. to 725 Sq. Ft.
Increases capacity for additional and more complex surgical cases
Rooms, dedicated to minimally invasive surgery, allowing improved access for cardiac, thoracic, vascular, gynecologic, urologic and general surgical robotic cases
Enhanced platform for medical education that allows Henry Ford Macomb to attract and retain the very best talent
Expands interventional radiology with two state-of-the-art fluoroscopy suites, neuro interventional capability, and access to the new operating room suites, offering patients quick access to some of the most comprehensive diagnostic and therapeutic treatment in the state
Learn more about our vision for surgical services expansion here.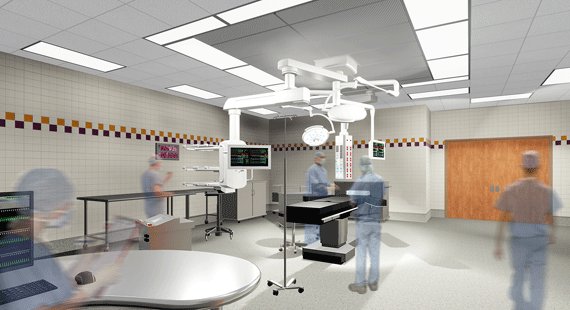 Leaders highlight the benefits of expansion
Join us as we build the Future of surgical care in our community
The Time is Now, the Place is Henry Ford Macomb Hospital. Did you know….?
More than 70,000 procedures have been performed in Henry Ford Macomb's ORs in the past five years.
With heart surgery rated among the top 50 nationally, Henry Ford Macomb Hospital has created a destination center for cardiac care in the community
New operating rooms equipped with the latest advancements in surgical technology.
Interventional Radiology procedures are expected to grow 14 percent during the next five years. These minimally invasive, image-guided procedures allow for quick recovery time.
In 2016, Henry Ford Macomb Hospital announced a $4 million donation from Macomb County businessman Wayne Webber and his wife Joan. The lead gift in this capital campaign also resulted in the newly created Wayne and Joan Webber Department of Surgery.
An Investment in Advanced Technology
At Henry Ford Macomb Hospitals, we work tirelessly to ensure that we have the right people and the most up-to-date technology, so we can provide the world-class care our community deserves. Expansion of the operating suites and accompanying services is critical to offering our community care that forges cures, fosters healing, and fuels hope.
Join us to ensure advance care remains close to home by making your gift.
Attend a fund-raising event
From golf outings to premiere black tie galas, Henry Ford Macomb offers a variety of ways for community members to get involved.
Register Now