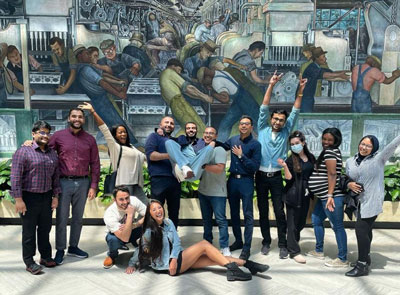 Henry Ford Hospital as an institution as well as the neurology department considers resident wellness a priority. Prior to new ACGME requirements for resident wellness , we in Neurology had already instituted a wellness series. Shortly after this the institution as a whole created a comprehensive Wellness series with a wide array of topics. Our residents participate in the institutional curriculum as well as enhancements in our department (i.e. chair massages, paint therapy, financial planning, annual resident retreat, etc.).
Healthy mind and healthy body are paramount to having a healthy resident. For this reason residents get a discount at a gym that is walking distance from the main hospital. Henry Ford also has an Employee assistance program which is available to both employees and their families free of charge.
Residency training is a busy time and for this reason graduate medical education have made a number of resources available. Uber ride share is available to all residents post-call or if resident feels too exhausted to drive. This service will take you home and bring you back the next day. Neurology department has a new call room next to the stroke unit. In addition to this concierge call rooms are available if needed at any time.
We recognize that mentorship is needed during training and beyond. For this reason we have a formal mentorship program for all residents. This includes both a resident and a faculty mentor.