Message from the Resident Clinic Site Director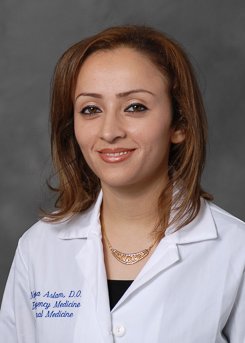 Ambulatory management of common and complex problems is a significant dimension of current medical care. As a goal of their ambulatory training experience, residents are expected to demonstrate competence in patient care based on the principles of evidence based medicine. Faculty and other clinic staff will provide many opportunities for residents to acquire skills in the billing and coding of common ambulatory visits and procedures.
On average, the trainee in internal medicine will average 4-6 patients per half-day session in the clinic. However, new trainees will see fewer patients, and the number of patient encounters will increase significantly as trainee skill, knowledge, and autonomy increase. As residents develop their patient panels, they will care for a growing number of patients. This training site provides their primary opportunity to develop knowledge, skills, and competency in the management of outpatient care. They will be supervised and held responsible for:
Eliciting a chief complaint, history, exam, reconciliation of medications and problem list
Developing a differential diagnosis
Formulating a treatment plan using evidence based medicine
Addressing preventive care at every encounter
Complete, accurate, timely and legible documentation of patient visits
Utilization of the concepts of managed care
Follow up on patients test results as available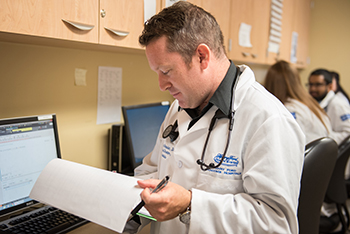 Residents will have their own schedule of patients' one half-day each week. Residents are able to follow the same patient panel over the course of three years of training, with an opportunity to follow up on patients from the inpatient setting. On elective months, PGY2 and PGY3 residents will have a full day clinic. Additionally, residents will complete a full month rotation in this continuity clinic as a second year resident, which adds to the overall experience of outpatient medicine. The faculty members in the clinic are exceptionally dedicated to teaching the internal medicine residents in outpatient medicine. Residents will learn appropriate diagnostic and treatment plans in addition to proper ways to bill and code for the outpatient encounters.
Resident requirements in the Ambulatory Continuity Training Site
Regular, assigned attendance at the one half day session per week
With the assistance of the clinic staff, develop a panel of patients who identify the resident physician as their primary provider over the three-year period of the training program.
Participate in formal evaluation of their ambulatory clinic performance with their faculty supervisor at least semi-annually.
Participate in all staff meetings of the clinic, if appropriate.
Participate in graduated scheduling of patients per training year:

First Year: 45 min/visit
Second Year: 30 min/visit
Third Year: 30 min/visit

Arrive on time. If the resident is going to be late or unable to attend, the resident is personally responsible for notifying the faculty supervisor and the office manager. All requests for time off from ambulatory clinic assignments must be approved in writing in advance following the policies of the Medical Education Department, usually 30 days prior to the start of the rotation.
Residents will review lab, radiology, messages, consults, etc., in a timely manner. Both the resident and the Faculty Supervisor must sign these items.
Residents must abide by all of the Basic Standards for Residency Training in Internal Medicine provided by the ACGME.
Residents must abide by all institutional policies and procedures.
Faculty in the Ambulatory Continuity Training Site
Program faculty at the ambulatory clinic must be board certified or eligible in internal medicine. The clinic is currently staffed with four internal medicine board certified faculty. These faculty members supervise program trainees, review key portions of the history and physical, discuss treatment plans and need for follow up. Medical faculty co-signs patient medical records completed by the resident. Faculty evaluates appropriate scope, volume, and variety of patient exposure, and may assign residents to particular patients based on these training needs assessments.

Amitha Aravapally, M.D., Teaching Faculty
John Bochenek, D.O., Teaching Faculty
Nagina Aslam, D.O., Teaching Faculty
Katherine Doyle,D.O., Teaching Faculty