Inpatient clinical training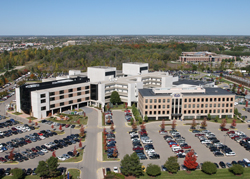 Henry Ford Macomb Hospitals
15855 Nineteen Mile Road
Clinton Township, MI 48038
(586) 263-2972 Office
(586) 263-2975 Fax
Henry Ford Health
2799 W. Grand Blvd
Detroit, MI 48202
(313) 916-2600 Phone
Principal Training Sites. The program provides a complete range of inpatient clinical training at its primary inpatient-training site, Henry Ford Macomb Hospital. Henry Ford Macomb Hospital (HFMH) is located in Clinton Township, Michigan, northeast of Detroit. The hospital is less than 30 minutes from the system's flagship academic medical center, Henry Ford Hospital, the site of select chosen elective rotations.
| | Henry Ford Macomb Hospitals | Henry Ford Hospital |
| --- | --- | --- |
| Size (beds) | 361 | 880 |
| Medical Staff | 800 | 1,157 (all HFMG) |
| ER Visits | 54,302 | 95,607 |
| Admissions | 19,444 | 40,678 |
| Surgeries | 13,173 | 18,971 |
| Deliveries | 1,640 | 2,649 |
Internal Medicine Services. At the HFMH, Hospitalists and private physicians provide supervision and training of the residents. On these services, residents are responsible for all major aspects of patient care. They work one-on-one with the attending faculty physician in the provision of care. Faculty physicians on these services give increasing autonomy to residents as they gain competence during the course of their training. Faculty on these services round daily at bedside with trainees to review written notes, assessments, and patient management plans. Academic teaching occurs during these rounds.
Subspecialty Services. Subspecialty rotations are provided throughout the Henry Ford Health depending on where the best educational experiences can be endowed. These can be at any of the inpatient campuses or in private doctors' offices, particularly for those subspecialties that are primarily outpatient in nature. Intensive care rotations are supervised by board certified critical care physicians and are staffed with a team of senior residents, junior residents and mid-level providers.
Simulation Training. All residents participate in simulation training at the Henry Ford Health Simulation Center located within the Henry Ford Hospital main campus. Residents participate in the Fundamentals of Critical Care Support course and an institutional curriculum covering such subjects as delivering bad news, informed consent, disclosing error and appropriate hand-off communication.
Ambulatory continuity training site
Henry Ford Macomb Hospital
Macomb Internal Medicine Resident Clinic
13801 East 15 Mile Road
Sterling Heights, MI 48312
(586) 757-9707 Office
(586) 757-9808 Fax
Henry Ford Macomb Internal Medicine Resident Clinic is a Hospital-operated ambulatory continuity-training clinic in Sterling Heights, within 6 miles of the hospital. All residents participate in clinic for one half day a week unless scheduled in the ICU or nights. The clinic is the site for the ambulatory continuity training experience for internal medicine residents.
Clinic Teaching Faculty:
Niluka Weerakoon, M.D.
Internal Medicine Program Director
John Bochenek, D.O.
Teaching Faculty
Nagina Aslam, D.O.
Teaching Faculty
Katherine Doyle, D.O.
Teaching Faculty
The teaching faculty provides supervision and training of all the internal medicine residents in the clinic and directs the ambulatory training curriculum that is taught during clinic time. The hospital designed and built this clinic to complement the inpatient training of physicians. The clinic operates Monday through Friday from 7:30 a.m. until 5 p.m. Residents see a variety of ambulatory pathology in the clinic. They are able to build patient panels and follow patients in a longitudinal fashion throughout their entire 3 years of training.