Didactic Program in Internal Medicine
The internal medicine program provides a wide range of academic programs to supplement the diverse clinical training experiences of trainees. These include:
Board Review: Throughout residency training, chapters from the most current edition of MKSAP are systematically covered in the weekly 60 minute didactic sessions. Each year, all topics are reviewed and discussed, enabling the residents to have covered the information multiple times over the length of the training program. Dedicated faculty lead the interactive question-answer, discussion session. Topics to be discussed are scheduled at the beginning of the academic year and the expectation is for residents to read the material and be prepared for the discussion. In addition, residents are assigned weekly quizzes through NEJM. Residents in the program, as well as all trainees rotating on medicine and subspecialty services, are required to attend if rotating in-house.
Weekly Block Didactic Sessions: The weekly block didactic sessions are is held Thursdays from 12:00-3:00pm. It includes the above mentioned board review followed by faculty driven lectures, as well as Journal Club once per month. The curriculum for this didactic series includes general and subspecialty medicine topics, as well as non-clinical topics like coding & billing, pharmacy services, clinical documentation, ethics updates, etc. Attending faculty and guest speakers are the usual presenters. Attendance is required for lectures on all internal medicine topics, Behavioral Medicine topics and Quality related issues. In addition, the Program Director can designate additional lectures that are required for the internal medicine house staff each month. There is an 80 percent attendance requirement and attendance is tracked monthly.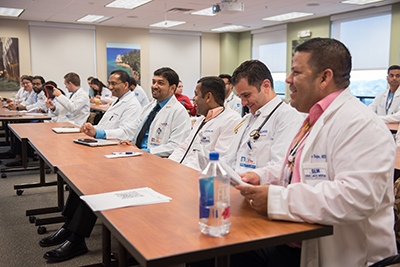 Morning Report: Held Monday-Wednesday 8:00-9:00am. These educational sessions are faculty moderated, case presentations and discussions led by the residents. Attendance is required for all trainees on in-house medicine and subspecialty services.
Morbidity & Mortality Review. Held the first and third Monday of every month from 7:00-8:00am. Internal medicine residents are assigned to present a case and discuss aspects for improvement as part of the practice-based learning core competency. Cases are chosen by residents or attending faculty.
All residents are required to present morning report case presentations, journal club presentations and morbidity and mortality cases throughout all years of their residency training.