Glioma Biology Laboratory
Currently, our laboratory is part of an NIH-funded project examining glioma vascular normalization by radiation therapy to determine the optimal time window for chemotherapy delivery. In another NIH-funded study we're looking at acute vascular protection in stroke, using Bryostatin-1 to extend the acute treatment window for tissue plasminogen activator. Tissue plasminogen activator is currently the only FDA-approved drug for acute stroke, but has a very short treatment window of ~3 h after stroke onset.
Our collaborative efforts are focused on: 1) developing a rat model for laser interstitial thermal therapy (LITT) that is often used in recurrent glioma surgery in humans; 2) developing animal brain tumor models from human glioma tissue that mimic the human disease both phenotypically and genotypically; 3) investigating novel ways to deliver chemotherapy to brain tumors; and 4) cerebrovascular protection in traumatic brain injury. In these studies, we work with other researchers and clinicians from the departments of Neurosurgery, Neurology, Emergency Medicine and Anesthesiology.
I have authored over 50 peer-reviewed publications and 5 book chapters. I also serve as a manuscript reviewer for several peer-reviewed journals, and as a grant reviewer for several funding organizations including American Heart Association, National Institutes of Health, India Alliance DBT Wellcome Trust, California Northstate University College of Pharmacy, and the Netherlands Technology Foundation.
For Research Collaborations
The following survey collects information about the resources that you would like to request from the Hermelin Brain Tumor Center. This initial information will be reviewed by our committee to determine whether the resources you need are available and appropriate next steps. Take the survey.
---
Principal Investigator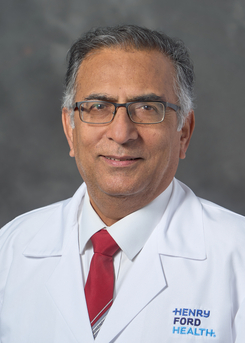 Phone: (800) 653-6568
Specialties: Research
Services: Fellow of the American Heart Association (FAHA)
Education
PhD, Neurophysiology with a dissertation on Neurobehavioral Toxicology, National Institute of Mental Health and Neuro Sciences, Bangalore, India, 1992
MSc, Zoology with Comparative Animal Physiology as the major, Bangalore University, India, 1983
About Me
Member of the Henry Ford Cancer Institute
Research Interest
Delivering treatments to diseases that affect primarily the brain has proven difficult. This is due to the specialized nature of blood vessels of the brain that do not permit the entry of substrates in blood except nutrients and oxygen. Such controlling is necessary for normal brain functioning since brain cells are sensitive to even small changes in their environment. However, under disease conditions such as stroke, traumatic brain injury and brain tumors, most drug molecules also are blocked from entering the brain making timely drug delivery to these diseases nearly impossible. As a result, these patient populations have high mortality rates. The status of neuronal cells in these diseases has been the focus of past research, but now we want to home in on the interactions between neuronal cells, their blood supply and other supporting cells in their vicinity to clarify the disease processes. Such interactions can be unique to a given altered brain condition and need to be understood in the context of that disease, but our findings may offer a broader range of treatment targets. For the past 20 years, my research has focused on understanding the changes in the brain blood vessel function using animal models of stroke and brain tumors. As a neuroscientist, I have a broad background in magnetic resonance imaging (MRI) of the brain, quantitative autoradiography and fluorescence microscopy. These are combined with a variety of histological and biochemical methods with improved functional outcome as the primary endpoint. Some of the MRI methods that we've developed to scan animal brains have been used in translational studies for human brain imaging. My research has primarily focused on: 1) the vascular pathophysiology of stroke and primary brain tumors such as glioma; 2) vascular protective therapies for stroke; and 3) mechanisms of vascular normalization to improve drug delivery to brain tumors.