OMICS and Bioinformatics Laboratory
Bioinformatics tool development to integrate epigenomic data from data derived from the public domain. Efforts have been centered on patient-focused studies to discover the molecular changes in primary tumors by harnessing advances in next-generation sequencing and microarrays. Many projects have only profiled genomic and transcriptomic alterations, but the identification of frequent mutations in epigenetic modifier genes has focused a spotlight on epigenomic and chromatin profiling as a candidate for tumor progression and onset. DNA methylation, a prominent epigenetic marker due to the widespread availability of DNA and the stability of this covalent modification, has long been recognized as an important biological event in normal development; however, the biology underlying these changes is not well understood in cancer. Whole-genome sequencing has allowed large-scale data integration across multiple chromatin markers (ChIP-seq), revealing a more complete picture of DNA methylation patterns as a reflection of larger changes to chromatin 'state.' As part of the Epigenomic Characterization Center for TCGA, elucidating the connections between DNA methylation and these other gene regulatory features has spawned great interest in a variety of tumor studies including gliomas. Yet the analytic tools required for this type of integration are not readily available to most cancer biologists. The reference maps themselves require a domain knowledge of gene regulatory features that is beyond the scope of many clinical research groups, and the publicly available datasets are too often the result of heterogeneous and frequently shifting analysis pipelines.
As a result, we have developed an important R/Bioconductor tool called TCGAbiolinks which aids users in the downloading, processing, preparation and analyzation of TCGA-related data (Calaprico A, et al., NAR, 2015); however, to fully harness the publicly available data across cell lines (ENCODE), primary tissue (NIH Epigenomics Roadmap) and cancer tissue (TCGA), efforts in our lab are currently underway to develop user-friendly open-source tools for cancer biologists.
For Research Collaborations
The following survey collects information about the resources that you would like to request from the Hermelin Brain Tumor Center. This initial information will be reviewed by our committee to determine whether the resources you need are available and appropriate next steps. Take the survey.
---
Principal Investigator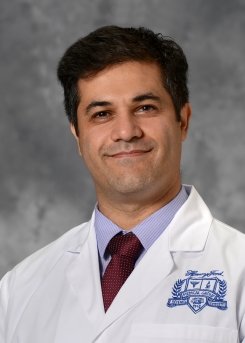 Phone: (313) 916-8641
As a professor and independent research investigator, my goal is to identify and understand the genomic and epigenomic changes associated with human cancers. Recently, we published our findings on the epigenomic and genomic features of all adult gliomas (including low-grade glioma [LGG] and glioblastoma [GBM]) and identified two distinct novel subtypes classified based on both IDH status and epigenetics. Defined by epigenetics, these subtypes elucidate a genomic signature that defines tumor progression.
My work also involves developing novel integrative analysis tools and methods to understand the link between specific intergenic regions and gene regulation associated with somatic and germline risk elements in cancer. By harnessing public datasets from The Cancer Genome Atlas (TCGA), National Institutes of Health (NIH) Epigenomics Roadmap and Encyclopaedia of DNA Elements (ENCODE), and integrating those with my own next-generation sequencing data generated by whole-genome bisulfite/ChromatinIP sequencing, I am hopeful that we can reach the ultimate goal of revealing the genomic regions associated with tumor progression and risk.
Research Interests
My research experience has provided exposure to many different areas of science including human physiology and disease, molecular biology, genetics, and bioinformatics and biostatistics. During my doctoral training with Dr. Peter W. Laird, I gained new insight and understanding of the epigenetic changes associated with glioblastoma multiforme, a primary brain tumor. This work resulted in a first author paper published in 2010 in Cancer Cell, and the tools I developed have been applied to a number of other cancer-related projects. Not only did this work spark my scientific curiosity in the field of epigenomics (specifically DNA methylation), it also fulfilled an exciting collaborative experience. As a member of The Cancer Genome Atlas (TCGA), I traveled and worked closely with a number of different scientists around the nation, including researchers from Broad/Harvard University, MD Anderson, Baylor and NCI. Although most of my work involved studying brain cancer, my focus has always been understanding epigenomics in complex diseases and, more importantly, integrative approaches to understanding the heterogeneity of both tumors and tumor biology. The advent of high-throughput technology provides a new look into the epigenomics of cancer and reveals new areas of personal epigenomics therapy.
My post-doctoral training inspired a strong appreciation of integrative science and how it can aid in deciphering the genomic risk elements associated with prostate and breast cancer. I developed a tool called FunciSNP which interrogated all candidate prostate cancer-associated single nucleotide polymorphisms (SNPs) with available and known epigenomic elements defined by histone modifications. This effort identified several candidate functional elements within the intergenic regions associated with prostate, breast and ovarian cancer.
As a professor in bioinformatics and epigenomics since 2012, I've had the pleasure of training the next generation of molecular biologists to data mine the enormous publicly available data to better understand the relationship between clinical outcome and tumor biology. These efforts are aimed at identifying biological markers for both prognostic applications but to also identify possible drug targets for improved therapy for patients suffering from complex diseases.