Henry Ford First to Bring New Brain Surgery Technology to Michigan
December 18, 2015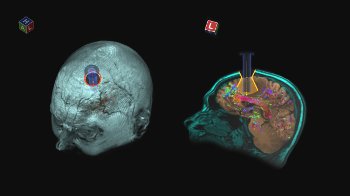 FOR IMMEDIATE RELEASE
Dec. 18, 2015
DETROIT – Henry Ford Hospital will be the first to bring fantastically advanced brain surgery technology to Michigan – and one of the first in the United States, the hospital system announced today.
The BrightMatter technology – highly detailed imaging and robotic positioning system with sensor-driven tools used in the operating room – should arrive in Detroit in early January, says Steven Kalkanis, M.D., chairman of neurosurgery at Henry Ford Hospital and co-director of the Hermelin Brain Tumor Center.
Henry Ford Hospital System today was the first in Michigan to sign a purchase agreement with the technology's developer, Synaptive.
"This is the future of not only neurosurgery, but what technology can do for medicine," Kalkanis said. "Three, four, five years ago, this would have been considered space-aged, science-fiction technology. You can see an actual red blood cell travelling through an artery in the brain. The level of detail allows us to think of surgery and visualize the brain in an entirely new way. That's a huge benefit for patients."
The result: smaller incisions, less recovery time and – most importantly – a better ability for surgeons to avoid important structures in the brain, he added. The technology is used to operate on brain tumors, aneurysms, vascular lesions and skull-based issues. The high-powered microscope and light source also can be used in minimally invasive spine surgery, Kalkanis said.
Cameron Piron, CEO and co-Founder of Synaptive Medical, said the company is tremendously excited to announce the partnership with Henry Ford Health System.
"Both organizations prioritize innovation and are working tirelessly to bring the best technology and clinical outcomes to the most patients," said Piron. "We are thrilled to see Henry Ford adopting the BrightMatter System. It shows an ongoing commitment to provide world-leading neurosurgical solutions to the people of Michigan."
The long, movable metal arm of BrightMatter contains a microscope and high-powered lighting that provides incredibly detailed vision to surgeons. The arm is also linked to sensors built into the surgeon's tools. Using images created during detailed pre-planning of the surgery, BrightMatter's sensors let the doctors know if their instruments are properly aligned before they move forward in the patient's brain.
"This is a significant game-changer," Dr. Kalkanis said. "This technology will transform our ability to enhance and perform neurosurgical procedures at Henry Ford Hospital. This state of the art imaging, navigation and robotic optical platform can transform surgeries previously deemed inoperable to operable with great outcomes."
Doctors who have been using the technology describe the new views it provides as "crazy."
"We've seen things we've never seen before, really, in the history of neurosurgery," said neurosurgeon Richard Rovin, M.D., of Aurora Healthcare in Milwaukee, Wisconsin, the first hospital to use the new technology in a clinical setting.
The Hermelin Brain Tumor Center at Henry Ford Hospital is a national leader in research and advanced brain tumor therapies. Patients and their families travel from around the country to find hope through an individualized treatment plan and a world class, coordinated care team. Since the founding of the Center in 1993, Henry Ford has treated more than 8,000 patients with brain tumors, including more than 1,400 patients with glioblastoma – the most aggressive of primary brain tumors.
To inquire about treatment at the Hermelin Brain Tumor Center or the Department of Neurosurgery at Henry Ford Hospital, call (313) 916-1340 or email [email protected].
More information about Henry Ford and the Hermelin Brain Tumor Center.
MEDIA CONTACT:
Brenda D. Craig, MFA
Director, Media Relations
Henry Ford Health System
(313) 876-8709 (office)
(313) 283-8331 (mobile)
[email protected]