Henry Ford Global Health Initiative Leads SARS-CoV-2 Testing for Residents, Staff at 26 Detroit Skilled Nursing Facilities
July 3, 2020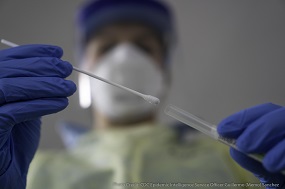 DETROIT – The Henry Ford Health System COVID-19 Rapid Response Team, led by the Henry Ford Global Health Initiative in collaboration with the Detroit Health Department, Wayne State University and the Centers for Disease Control and Prevention, visited 26 skilled nursing facilities (SNFs) in the City of Detroit, testing facility residents and staff for SARS-CoV-2, the aggressive virus that thrives in areas of close personal contact and causes COVID-19.

A report published in the Centers for Disease Control and Prevention's Morbidity and Mortality Weekly Report, co-authored by Henry Ford Staff, describes the facility-wide testing results at these SNFs, which were experiencing initial COVID-19 outbreaks between March and April 2020. The report indicates that repeated testing combined with infection prevention control interventions contributed to decreases in the ongoing spread of SARS-CoV-2 among these facilities.

"This effort was critical in the control of COVID-19 in nursing homes," said John Zervos, executive director of the Henry Ford Global Health Initiative. "The study shows the importance of repeated and facility-wide testing of symptomatic and asymptomatic residents and staff coupled with on-site infection and prevention support. Nursing homes were one of the hardest hit populations, with some facilities having over 50 percent of residents test positive for COVID-19. Ongoing testing and support had a significant impact on saving lives in one of the communities hardest hit by COVID-19. The implications are significant both in Detroit and nationally, and are a model for others around the world."

The Henry Ford Global Health Initiative led testing efforts at the 26 Detroit SNFs by assembling teams comprising staff from Henry Ford, the Detroit Health Department, Wayne State University, City of Detroit emergency medical technicians and volunteers, Zervos said.

"We deployed up to five mobile units a day, seven days a week during the height of the pandemic. To make this possible, we mobilized an incredibly dedicated and passionate team of close to 100 individuals, many of whom were volunteers, from numerous institutions. Collectively, these teams tested residents at numerous facilities each day, up to 275 tests per day. I have never seen this many different organizations come together, this quickly and effectively, for a common goal," Zervos said.

Repeated point prevalence surveys, which describes serial testing of all residents and healthcare personnel at a healthcare facility irrespective of symptoms, were used to identify asymptomatic infections and helped reduce the spread of the virus during outbreaks at the SNFs.

In addition to implementing test-based strategies, working with the nursing home staff was a critical tool to prevent further transmission. Together with personnel from the CDC, Detroit Medical Center and Wayne State University, Henry Ford staff met with nursing home staff on an ongoing basis to provide education and outreach about best practices to control the spread of COVID-19.
"Teams provided strategies on infection control, cohorting and isolation of positive patients away from negative patients, surface transmission cleaning procedures and contact reduction, and proper usage of personal protective equipment, all in order to reduce virus transmission," said Tyler Prentiss, program director for the Global Health Initiative Rapid Response program.

Today, current rates of infection are low in the nursing homes in Detroit. However, ongoing testing and support is needed to further protect residents and staff, Zervos said.

The Global Health Initiative Rapid Response program has also partnered with the Detroit Health Department to bring testing to vulnerable populations in congregate settings in Detroit beyond nursing homes, including homeless shelters, assisted living facilities and affordable senior housing residences. All together the collaboration has brought testing to over 10,000 Detroiters across hundreds of facilities.

"Any location where vulnerable individuals reside, especially in congregate settings, has been our focus," Zervos said. Most recently, the mobile units have visited vulnerable patients outside of the city, partnering with PACE of Southeast Michigan to bring testing directly to hundreds of elderly individuals in their homes.

The Henry Ford Global Health Initiative has operated with support from multiple sources, including a $400,000 grant from Altimetrik and the 501(c)(3) Vattikuti Foundation; $300,000 from the United Way for Southeastern Michigan and BET; as well as grants from Abbott, the maker of the Abbott ID-Now instruments and COVID-19 testing kits, and other organizations.

###

MEDIA CONTACT: Jeff Adkins / (586) 307-2027 / jadkins6@hfhs.org
Photo credit: CDC Epidemic Intelligence Service Officer Guillermo (Memo) Sanchez