Henry Ford Senior Leaders Issue Call for Unity on Vaccination
July 21, 2021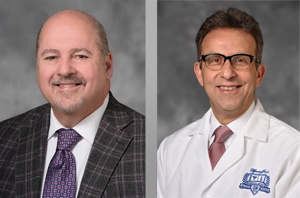 DETROIT (July 21, 2021) – Amid mounting concern about the highly transmissible Delta variant, senior leaders at Henry Ford Health System said Wednesday that vaccination is the only way to "make a deep and lasting impact on the pandemic."
"We're counting on people to do the right thing, and many, many have already done so. We think others will do the same," said Bob Riney, President of Healthcare Operations and Chief Operating Officer, during a briefing with reporters. "This is a time for unity. The virus will not win if we're unified."
A recent study in the journal Lancet reported that people who are unvaccinated and infected with Delta are twice as likely to be hospitalized. Nationally, an estimated 97% of people being hospitalized for COVID are unvaccinated and 99.5% of people dying are unvaccinated.
Henry Ford has seen a similar trend. At least 95% of patients being hospitalized for COVID-19 are unvaccinated. At Henry Ford Hospital for example, not one patient who was fully vaccinated has been hospitalized in the ICU.
Currently, 28 patients are hospitalized with COVID-19 across the five acute-care hospital system. The positivity rate is 3.6%, which has been on the rise in recent days.
"This virus continues to show that every single time we think we have it under control, it has a way to escape," said Adnan Munkarah, M.D., Executive Vice President and Chief Clinical Officer. "The data has shown us that the best way out and the only way out (of the pandemic) is vaccination.The vaccination has allowed us to prevent people from being hospitalized."
The median age of unvaccinated people being hospitalized are in their 30s and 40s, Dr. Munkarah said, adding "this is not a virus that spars the young." He said people who are immunocompromised are particularly vulnerable to loved ones and others who are unvaccinated.
"We have hundreds of children who have lost their life to COVID," he said. "These are lives that could have been saved. Children at the present time don't have the privilege of being vaccinated. We are exposing these young lives to the risk of COVID if we don't vaccinate people."
Last week, the Society of Healthcare Epidemiology of America led a consortium of medical societies to recommend that a vaccination requirement is highly effective at preventing infection, hospitalization and death. Additionally, the Epidemiology Society said, the safety profiles of the COVID-19 vaccines are similar to existing FDA-approved vaccines for other diseases.
The media briefing came three weeks after Henry Ford announced that it was requiring its workforce to be fully vaccinated by Sept. 10, as a condition of employment. Just over 70% of team members have received their first dose, and senior leaders said they expect that number to increase in the coming weeks. The highest rate of vaccination is among physicians and leadership, at 90%. The lowest numbers are in non-clinical areas and team members who have been working remotely.
The announcement led to peaceful protests at Henry Ford's hospitals last weekend, opposition that was not unexpected, Riney said. Organizers were not affiliated with Henry Ford and the majority of them gathered were not team members, he said.
"The opposition has been largely eclipsed by the widespread support and feedback we have received from our team members, our patients, and the communities we serve," Riney said. "We were particularly heartened by a note from one of our doctors who likened our decision to the phrase he first heard in medical school: Do No Harm. As in, Do No Harm by ensuring that we won't pass this devastating virus to each other or to anyone who visits one of our facilities."
Since the vaccine announcement, 20 other hospitals or health systems across the country have announced they too are requiring the COVID-19 vaccination for their employees. Currently, there are 41 hospitals or health systems that have announced vaccine requirements for their employees. Additionally, it's been reported that hundreds of colleges and universities are requiring their students to be fully vaccinated before returning to campus in the fall.
"We have never been more committed that our decision to require vaccination is the right thing to do for the health and safety of our patients, our workforce and the communities we serve," Riney said. "If healthcare is not going to lead on this issue, who will? They depend on us and trust us to ensure a safe and healthy environment and we pledge to honor that promise."
Riney and Dr. Munkarah said the health system is committed to being transparent with unvaccinated team members and providing them with the information they need to make an informed decision. They remain hopeful and optimistic that "we don't lose any of our valued team members because of this decision."
For those who have declined or delayed vaccination, Riney cautioned people about misinformation and disinformation populating on social media and the internet. He urged people to rely on trusted sources like their doctor, their faith leader or vaccinated loved ones, and to seek information grounded in facts.
"The decision for vaccination is a medical decision," Dr. Munkarah said. "It is not a political decision. It is not a freedom decision. This is all we ask for – that we take the discussion to where it needs to be for the health of our community."
Added Riney: "We need everyone in this fight. For vaccination to make a deep and lasting impact on the pandemic, we need our rates as high as they can possibly be. Safety and infection prevention are all of our responsibility. As this community's trusted healthcare leader and voice, we have a responsibility to lead by example, instilling confidence in our communities by stepping up, being vaccinated and educating our friends, our families, our co-workers and our neighbors about the safety and effectiveness of vaccines."
###
NEWS MEDIA ONLY may contact: David Olejarz / David.Olejarz@hfhs.org / 313-303-0606
About Henry Ford Health System
Founded in 1915 by Henry Ford himself, Henry Ford Health System is a non-profit, integrated health system committed to improving people's lives through excellence in the science and art of healthcare and healing. Henry Ford Health System includes Henry Ford Medical Group, with more than 1,900 physicians and researchers practicing in more than 50 specialties at locations throughout Southeast and Central Michigan. Acute care hospitals include Henry Ford Hospital in Detroit, MI and Henry Ford Allegiance Health in Jackson, MI – both Magnet® hospitals; Henry Ford Macomb Hospital; Henry Ford West Bloomfield Hospital; and Henry Ford Wyandotte Hospital.
The largest of these is Henry Ford Hospital in Detroit, a quaternary care research and teaching hospital and Level 1 Trauma Center recognized for clinical excellence in cardiology, cardiovascular surgery, neurology, neurosurgery, and multi-organ transplants. The health system also provides comprehensive, best-in-class care for cancer at the Brigitte Harris Cancer Pavilion, and orthopedics and sports medicine at the William Clay Ford Center for Athletic Medicine – both in Detroit. As one of the nation's leading academic medical centers, Henry Ford Health System annually trains more than 3,000 medical students, residents, and fellows in more than 50 accredited programs, and has trained nearly 40% of the state's physicians.
Our dedication to education and research is supported by nearly $100 million in annual grants from the National Institutes of Health and other public and private foundations. Our not-for-profit health plan, Health Alliance Plan (HAP) provides health coverage for more than 540,000 people.
Henry Ford Health System employs more than 33,000 people, including more than 1,600 physicians, more than 6,600 nurses and 5,000 allied health professionals.