If You're Thinking About Getting COVID on Purpose, Don't
February 4, 2022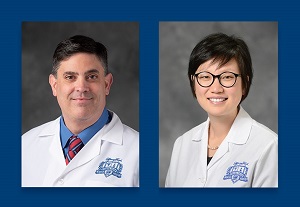 DETROIT (February 4, 2022) – Doctors at Henry Ford Health System advised against getting infected with COVID on purpose and warned that the incidence of people struggling with persistent, long-term COVID symptoms will only grow.
"Unfortunately, even as we see COVID cases coming down, we will continue to see ongoing disability from past COVID infections," Eunice Yu, M.D., an internal medicine physician and Medical Director of the COVID Recovery Care Program, said during a briefing with reporters Friday. "Research suggests that 10 percent to 50 percent of patients experience persistent symptoms more than 4 weeks after recovering, even if they weren't very sick in the first place."
Dennis Cunningham, M.D., System Medical Director of Infection Control and Prevention, said even mild cases of COVID can lead to long-term effects of COVID, also known as long COVID. Symptoms can range from a loss of taste and smell and headaches to severe fatigue, brain fog, nerve and muscle pain and psychological symptoms like anxiety and depression.
Henry Ford reported 233 hospitalizations, down from 551 two weeks ago. The positivity rate for infections was 17.3 percent, the lowest since mid-November.
Because of the high transmissibility of the Omicron variant, people have been wondering if they should get infected on purpose for immunity. Dr. Cunningham said he strongly advised against it.
"This is pretty irrational thinking," he said. "We've spent so much time and effort trying to avoid COVID, whether we've vaccinated or not. Even though Omicron is contagious, we don't want people to just get this infection. The reason is most people recover, but we can't tell you who is going to come into the hospital, who's going to die, who's going to have long-term complications of COVID."
Dr. Yu said the COVID Recovery Care Program comprises a team of multi-disciplinary team of specialists that includes pulmonologists, psychiatrists, physical and speech therapists, primary care physicians, neurologists and experts in sleep medicine. A patient's care begins with their primary care physician who consults with the team to develop a custom care plan tailored for each individual patient.
She said long COVID symptoms can be "life-altering" for patients.
"They are students, marathoners, teachers, nurses, parents, and business owners who are experiencing daily symptoms that keep them from functioning," she said.
Among them is Jeff Whitmer, a resident of Oakland County who is employed as an architect. He tested positive for COVID in November 2020 and his quality of life hasn't been the same since. The once active lifestyle he enjoyed with his wife Allison and their two children – sports, traveling, camping – has been impeded by extreme fatigue, a common but distressing symptom of long COVID.
He and his wife both got sick from COVID at the same. While she recovered in about 10 days, he did not.
"I couldn't get passed the fatigue and some other nagging issues," he said. "For me, it never went away."
Whitmer said no matter how much rest he gets, the fatigue lingers. "There are some days where I can't physically get out of bed until 11, 12 o'clock," he said. Before COVID he was an early riser and full of energy.
He said he is grateful to his family for their support and chipping in more on upkeeping their home. He has maintained his workload but takes frequent breaks to try and recharge and get through a regular workday.
"I couldn't be more happier with my kids and my wife and how they've handled everything," he said. "It's very stressful on all us."
Whitmer has undergone a battery of tests that have shown no organ damage or other chronic issues. He is sharing his story in hope of helping others living with long COVID. He is on Henry Ford's patient and family advisory council and a participant in a long COVID study.
"I hope I get better, I need to get better, I have to get better," he said. "I can't imagine this is going to last forever."
Dr. Yu said it may be years before the implications of the physical and mental health issues associated with long COVID are fully understood.
"We're already seeing signs of a significant increase in chronic disease as a result of COVID infection," she said.
Both Dr. Yu and Dr. Cunningham stressed the importance of being up to date with vaccinations, meaning the original two-dose or one-dose vaccine plus a booster dose. A CDC study released on Tuesday added to the growing body of research about the benefit of vaccination and booster to protect against severe illness, hospitalization and death.
"The only known way to prevent long COVID is not to get COVID in the first place," Dr. Yu said.
###
NEWS MEDIA ONLY may contact: David Olejarz / David.Olejarz@hfhs.org / 313-303-0606