What You Need to Know About the B.A.2 Variant
March 29, 2022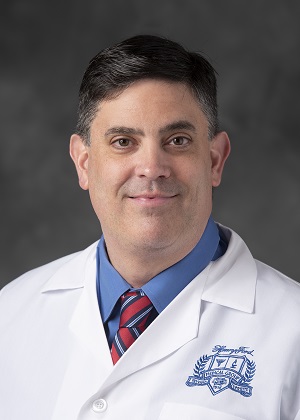 DETROIT (March 29, 2022) – Dennis Cunningham, M.D., System Medical Director of Infection Control and Prevention at Henry Ford Health, said Tuesday the B.A.2 variant is the most transmissible form of Omicron and the most common cause of COVID-19 in the country, which could lead to a rise in infections.
"I do think it's possible we'll have an increased number of cases," Dr. Cunningham said during a virtual briefing with reporters. "I do not think it's going to be as bad as the other surges we've had. Between the vaccines and the number of people already infected with COVID previously, especially in the past few months, I expect most people will either have no symptoms or very mild symptoms."
Dr. Cunningham said the symptoms caused by B.A.2 include headache, sore throat and body aches. Shortness of breath and loss of taste and smell, common symptoms of previous COVID strains, are not associated with this new strain, he said.
Currently, the number of COVID hospitalizations across the health system, have dropped dramatically in recent weeks to the low 30s, Dr. Cunningham said. He said the B.A.2 variant has shown to cause more severe illness in children than adults but cautioned that most children will experience only mild symptoms.
Dr. Cunningham encouraged those who have not yet received their booster dose to do so and supported Tuesday's decision by the U.S. Food and Drug Administration to authorize a second booster shot for people 50 and older and some immunocompromised people. He pointed to research out of Israel that showed a second booster helped prevent severe disease. In Jackson, Macomb, Oakland and Wayne counties, only 40 to 55 percent of residents have received their booster dose.
"Booster doses are certainly helpful," he said, adding that he would expect the COVID vaccination to become an annual one similar to the flu shot, once the pandemic shifts to an endemic phase. "I would encourage people 50 and older to get that (first) booster dose if they haven't already and that second booster dose if you're eligible. We do know that people over 50 are most likely to wind up in the hospital or have serious complications. To me, getting a vaccine is a small price to pay for that."
Dr. Cunningham wouldn't rule out the emergence of new variants that could cause more severe disease in the population.
"Viruses – when they copy themselves, copy themselves millions and millions of times every day," he said. "Every time they copy themselves, there's a small chance for a mutation. Whether that mutation makes it easier for the virus to survive or less likely to survive, that's random chance. That's why there is so much hope about all the infection control practices and vaccinations, that if there is a more nasty strain in the future, we can handle it better."
Given current infections rates, Dr. Cunningham said most people can go about their day without wearing a mask. However, he recommended them for people who have allergies or cold symptoms or are around those with symptoms. Masks continue to be required for all healthcare facilities under CDC and Michigan Department of Health & Human Services directives.
"If people want to wear a mask, by all means do so," he said. "I just don't know that we need to do that for everybody given the current case rates."
###
NEWS MEDIA ONLY may contact: David Olejarz / David.Olejarz@hfhs.org / 313-303-0606