Henry Ford Health Delivers First COVID-19 Vaccinations for Children 6 Months to 4 Years Old
June 28, 2022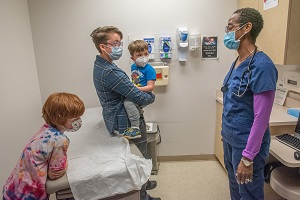 DETROIT (June 28, 2022)—Shortly after 10 a.m. on Tuesday Ezekiel Gladstone became the first patient under the age of 4 to receive a COVID-19 vaccine at Henry Ford Health's pediatrics clinic at New Center One. It was the first day the health system offered COVID-19 vaccines for patients between the ages of 6 months and 4 years old.
Ezekiel's mom, Anna Gladstone, said she breathed a sigh of relief when the three-year-old received his first dose.
"I feel like we've been waiting for this for a long time. I was kind of listening to a dance song in the car ride and doing a happy dance on the way here," Gladstone said.
A few tears followed the injection, but after a high five from Mom and Dad, Ezekiel was smiling again. Medical assistant Charneka Jackson brought a special set of blocks for Ezekiel and his big brother, J.D., to play with while they waited for a visit from Dr. Tisa Johnson Hooper.
With both boys now vaccinated Anna Gladstone said the family—including dad, Carl Gladstone—are looking forward to the activities they enjoyed pre-pandemic.
"As the world has opened up, it feels like—having young kids—we were a little left behind, so we're really excited to be able to vaccinate [Ezekiel]," Anna Gladstone said.
She choked back tears as she continued, "We can get back to doing the things that we love and allowing him to participate in extra curriculars and not have to worry about every potential exposure."
Henry Ford Health is offering COVID-19 vaccinations for established patients of all ages at its pediatric and family medicine clinics. Appointments can be scheduled via a MyChart account or by calling the doctor's office. Patients can make an appointment at any location that's convenient, even though it may not be the location of their regular doctor.
Dr. Johnson Hooper, vice-chair of Henry Ford Health's department of pediatrics and medical director for the system's center for autism and developmental disabilities, said she expects most families to incorporate the COVID-19 vaccine into their children's regular vaccine schedule.
"The COVID-19 vaccine can be given at the same time as a routine vaccination, so certainly when they come in to get their routine health assessment and they get their routine childhood vaccinations, they can get the COVID vaccine at the same time," Dr. Johnson Hooper said.
While she acknowledged that parents may be hesitant to give their children a new vaccine, Dr. Johnson Hooper assured parents the COVID-19 vaccines are safe and effective.
"I can definitely say it took all this time because we wanted to make sure that this vaccine was studied thoroughly and vetted thoroughly," she said.
The FDA and CDC have reviewed the data and found that children are much more susceptible to adverse effects from COVID-19 than they are from vaccination.
In vaccine trials, the Pfizer vaccine was 80.3% effective in preventing COVID-19 in children ages 6 months through 4 years after three doses. The dose is one-tenth of the adult dose.
"If parents are still concerned, they should talk to their pediatrician," Dr. Johnson Hooper recommended. "They should make sure they get information from a trusted, reliable source and avoid social media as a source of truth. I think with that, families will be able to make an educated, informed decision about getting their children vaccinated."
The Pfizer vaccine for children ages 6 months to 4 years old is given in three doses. Dose two is given twenty-one days after dose one. Dose three is given eight weeks after dose two.
While all the COVID-19 vaccines are safe and effective, Henry Ford Health only offers the vaccine from Pfizer. Different brands have different storage and dosing requirements. Having the same brand at all primary care and pediatric centers is more efficient and safer at every step—from ordering to storage, transport, and delivery to patients.
More information and answers to frequently asked questions about COVID-19 vaccines can be found on henryford.com.
###
MEDIA ONLY MAY CONTACT: Dana Jay/ djay2@hfhs.org /847-530-0320
Photos and video are available upon request.