Double-Liver Transplant Survivor Inspires Henry Ford Health Doctors, Staff with Positive Outlook and Grateful Attitude
June 8, 2023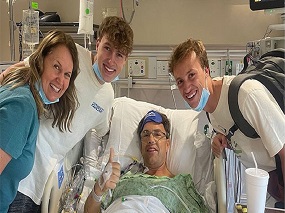 An avid runner his entire life, just a year ago, a two-minute walk "felt like a heart attack" for 52-year-old Jeff Muller, who lives just outside of Grand Rapids. Jeff was dying. "I didn't know this then, but they didn't think I was going to make it," Jeff said.
Growing up, Jeff had a few seemingly minor symptoms that he later realized were part of a much bigger problem. "I would count my bruises in math class," Jeff said with a chuckle.
Jeff eventually learned he had low platelets and elevated liver enzymes. Most of the time the conditions posed no issues; but at a family gathering in 1996, Jeff recalls his wife, Kristy, telling him his color looked "off."
"She said I looked 'kind of gray,' but I was fine," Jeff said. "I was running, hiking mountains. I didn't have a care in the world!"
But in February of 1997, when Jeff was just 26 years old, a doctor broke the frightening news to him: he had a serious liver disease that was causing scarring on his liver, known as Cirrhosis. Jeff thought only longtime alcohol drinkers were susceptible to Cirrhosis.
"It knocked the wind out of me," Jeff said. "I was like, what? Every day after that I woke up with this heavy, heavy feeling of dread that I was going to die."
Jeff was later diagnosed with Autoimmune Hepatitis, which causes the body's immune system to attack the liver and can lead to Cirrhosis, and ultimately leads to liver failure. Jeff was told he would eventually need a liver transplant. However, put on medication, Jeff said he had been feeling "fine and healthy," and even forgot he had the disease until he noticed some lingering symptoms about 20 years later. He had been getting winded way too easily, for one.
"

The doctor's office

called, and I knew it wasn't good"
"I'll never forget – it was on Good Friday in 2018. The doctor's office called, and I knew it wasn't good," Jeff said. He'd gotten bloodwork done the day before and it showed his hemoglobin levels were dangerously low. Then, a few months later, Jeff began vomiting up massive amounts of blood and was sent to the ER.
"We thought things were under control until one Sunday morning in September," Jeff said. "I woke up and I was getting ready for church and didn't feel well, and I threw up blood… about a quart and a half. I'll tell you, the fastest way into the ER is with a bucket of blood!"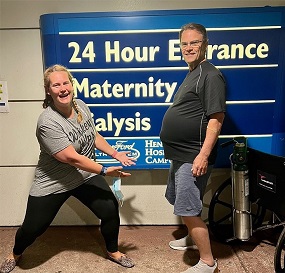 Jeff was then referred to Henry Ford Hospital in Detroit, and he knew a transplant was looming. While doctors closely monitored his slow-moving disease, Jeff tried to stay positive, even joking around about the fluid that began collecting in his abdominal area.
"I noticed I was getting a beer gut and I don't even drink a lot of beer," Jeff said. "I kid you not – I looked nine months pregnant! They were draining about six liters of fluid per week. It looked like Oberon beer!"
But his good-natured demeanor turned solemn as he recalled some of his hardest days that followed – days he couldn't move or speak very well.
"I was so miserable, immobile, getting brain fog," Jeff said. "I was quiet. I was losing my voice and other functions. I started becoming more and more open to the transplant."
Determined to run again
Jeff said he relied heavily on his faith, family and friends to get him through his darkest days. While he could not even walk to the bathroom, he remembers his friend Dave saying to him, as they both gazed out his hospital window at Henry Ford Hospital in Detroit: "You see that Ambassador Bridge out there? We're going to run that." Jeff was determined to stay optimistic and to lace up his running shoes again. Then, in July of 2022, Jeff underwent what would become his first transplant surgery; it lasted a grueling 10 hours.
"I just thought, I have the A-Team… just some of the most brilliant people I've ever met, and really, it put me at ease," said Jeff. "My poor liver did all it could until the very end."
Jeff was hopeful this would be the last step for him, but he spent eight days in the ICU, and the next three months in and out of the hospital with complications. He lost 50 pounds in those 90 days.
"On a positive note, there were some bright spots, like the medical staff at Henry Ford," Jeff wrote in his blog documenting his health journey. "I've never met more professional, kind, and encouraging individuals."
The challenging outcome Jeff had with his first transplant is uncommon, according to Marwan Abouljoud, MD., the director of Henry Ford's Transplant Institute, but can happen sometimes due to ischemia (an inadequate blood supply to an organ or part of the body).
"Jeff experienced a rare event, which was not clear from the outset," said Dr. Abouljoud. "When this happens, we can often salvage the transplant organ, but this also makes the course of recovery lengthier. At which time, a retransplant is necessary and is very, very successful, as in this situation."
"Those guys are just heroes"
Back on the transplant list, Jeff recalls his favorite nurse practitioner, Karen, telling him on September 25, 2022: "Don't worry, these doctors are going to find the perfect liver for you." Jeff got the call for a new liver just 18 hours later and was in surgery again the following day.
"I got two rockstars – two top surgeons," including Dr. Abouljoud. "Those guys are just heroes."
"Jeff is a remarkable guy," Dr. Abouljoud said. "He has shown so much resilience and grit we can all learn from. He always aimed for a positive outlook."
Meanwhile, Kristy, his wife of 27 years, stayed in Henry Ford's transplant suite for months during all that uncertainty.
"[The transplant suite] was amazing. I get choked up every time I talk about it," said Kristy. "It was a godsend for me. I was 30 seconds away. I could call anybody, and we were right there – it was very comforting. Our boys could come and stay, we could all be there as a family. Shout out to Rose at the front desk! She's a hidden gem at Henry Ford."
Then, on Christmas morning of 2022, three months after his second transplant, Jeff noticed something was missing: miraculously, his pain. He said he's feeling "whole" now – forever changed, grateful and certainly full of life.
"This team was out to save Jeff's life," said Kristy. "I mean, wow. I've never seen a team want so much good for a patient. They transformed his life, and two donors are the reason for this, too. Jeff is thriving now."
"It's just so hard to put into words"
Jeff said he wishes he could thank everyone at Henry Ford who had a hand in his recovery but knows that's an impossible task.
"What do I say to the people who saved my life? It's just so hard to put into words," Jeff said. "You have to go behind the scenes to really appreciate the people. They have every resource, and everyone was just spectacular – that's why I'm such a cheerleader for Henry Ford. You have these friendships, then you leave, and you miss these people. The woman who kept our room tidy, and even John, the guy who delivered our food, was amazing!"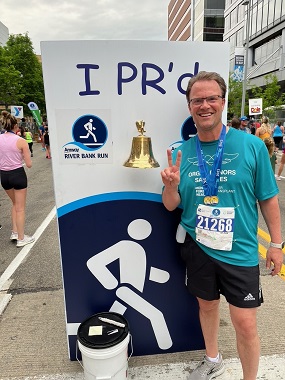 "In spite of all the challenges, he always trusted the team, was thankful, and continued to show gratitude and appreciation," said Dr. Abouljoud. "We went through the journey together and we won!"
After sharing his story online with the hope of helping others, when Jeff looks at the Ambassador Bridge, he cannot help but feel a smiling sense of purpose and belonging.
"I see that Ambassador Bridge with tears in my eyes now," Jeff said, who recently ran the River Bank Run 5K near Grand Rapids. "I want to run more 5Ks and have others join me!"
###
MEDIA CONTACT: Erika Erickson | eericks2@hfhs.org | 734.377.5547
ABOUT HENRY FORD HEALTH
Serving communities across Michigan and beyond, Henry Ford Health is committed to partnering with patients and members along their entire health journey. Henry Ford Health provides a full continuum of services – from primary and preventative care, to complex and specialty care, health insurance, a full suite of home health offerings, virtual care, pharmacy, eye care and other healthcare retail.
It is one of the nation's leading academic medical centers, recognized for clinical excellence in cancer care, cardiology and cardiovascular surgery, neurology and neurosurgery, orthopedics and sports medicine, and multi-organ transplants. Consistently ranked among the top five NIH-funded institutions in Michigan, Henry Ford Health engages in more than 2,000 research projects annually. Equally committed to educating the next generation of health professionals, Henry Ford Health trains more than 4,000 medical students, residents and fellows every year across 50+ accredited programs.
With more than 33,000 valued team members, Henry Ford Health is also among Michigan's largest and most diverse employers, including nearly 6,000 physicians and researchers from the Henry Ford Medical Group, Henry Ford Physician Network and Jackson Health Network.
The health system is led by President and CEO Robert G. Riney and serves a growing number of customers across 250+ locations throughout Michigan including five acute care hospitals, two destination facilities for complex cancer and orthopedics and sports medicine care, behavioral health, primary care and urgent care centers.