In HIV hotspot Detroit, researchers aim to train more physicians to prescribe PrEP
July 18, 2023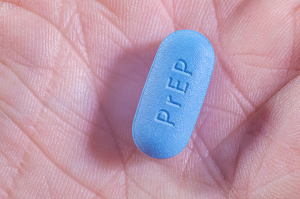 DETROIT – Of the 1.2 million people in the United States who could benefit from HIV pre-exposure prophylaxis, or PrEP, only about 25% are prescribed the treatment, the
Centers for Disease Control and Prevention (CDC)
said in 2021. The disparity is even greater among people of color.
Researchers at Henry Ford Health are working to address two of the major factors that contribute to the discrepancy: stigma and a lack of training among providers.
"There are multiple ways to prevent HIV transmission, including highly effective PrEP medications, but sometimes primary care physicians don't feel comfortable talking to their patients about sex and HIV prevention," said
Elizabeth Lockhart, Ph.D.
, an assistant scientist in Henry Ford Health's Center for Health Services Research, whose research focuses on understanding and reducing inequities in sexual and reproductive health.
"Many prescribers aren't familiar with the tests and other procedures necessary to get patients on PrEP," she added.
Lockhart and her colleagues are working to roll out a pilot version of a computer-based PrEP training module to primary care providers at Henry Ford Health, which is based in Detroit. The computer-based training program would teach providers how to prescribe PrEP and simulate interactions with patients who may be eligible for the treatment.
"This training is to help providers feel more comfortable talking to and potentially prescribing PrEP to their patients," she said. "We want preventing and managing HIV to be just as common as preventing and managing chronic illnesses like high cholesterol or diabetes."
Inequities in HIV treatment and the need for more prescribers are particularly pronounced in Detroit, where most of the population is Black; HIV disproportionately impacts people of color and men who have sex with men, Lockhart said.
"There's large gaps and disparities in who is being prescribed and taking PrEP," she added. "If we can get preventive medications like PrEP, to people who are most impacted, we can start to bring down the number of new diagnoses."
Detroit has the highest prevalence of HIV in the state, according to the
Michigan Department of Health and Human Services
. The Centers for Disease Control and Prevention (CDC) designated the surrounding Wayne County an HIV hotspot.
For every two white men living with HIV, there are 15 black men living with the virus, according to the Michigan Department of Health and Human Services. But according to the CDC, among PrEP users, only 11% are African American; 69% are White, 13% are Hispanic or Latino and 4.5% are Asian American.
PrEP is taken by individuals who do not have HIV but are at risk of getting it. The medication is sold under the brand names Truvada, Descovy and Apretude.
Henry Ford Health is one of the few providers that offers Apretude injections, which are given every two months. Truvada and Descovy are taken daily in pill form.
PrEP reduces the risk of getting HIV from sex by about 99% when taken as prescribed, according to the U.S. Department of Health & Human Services. For people who inject drugs, it reduces the risk by at least 74% when taken as prescribed.
###
MEDIA CONTACT:
mediarelations@hfhs.org