Diagnosis of Sleep Disorders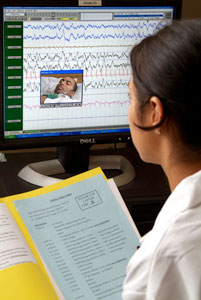 The specialists at Henry Ford Sleep Disorders and Research Center take the time to carefully evaluate each patient to make the most accurate diagnosis. We see patients and perform sleep lab studies at many convenient locations throughout southeast Michigan, as well as in the Jackson area.
Your sleep medicine appointment
When you come in for your initial visit, your doctor will discuss your general medical and sleep history. He or she will also do a physical exam to help determine if your sleep condition is related to your physical health. You may be asked to keep a sleep diary for a couple of weeks before coming in for your appointment. Recording how much sleep you're getting, how long it takes you to sleep, and symptoms like snoring and daytime sleepiness, can help point your doctor to a possible diagnosis.
We also offer video-visits with our board certified physicians for both new and return patients
You can receive the same personalized care you receive in the office, but without having to worry about coming to our clinics. You can conduct the video visit home, work or any other location where you feel comfortable talking with your doctor. We now offer extended morning and evening hours for your convenience.
Doing a sleep study
Some conditions -- such as sleep apnea, REM sleep behavior disorder and narcolepsy -- may require a sleep study in order to make a definitive diagnosis. The results of a sleep study can also help determine the most effective treatment. At Henry Ford, we offer patients two options for sleep testing:
Sleep lab study: These overnight tests take place at one of our sleep labs. A sleep technician will connect you to multiple wires that will monitor your breathing, heart rate, oxygen saturation and other functions while you sleep.
Home sleep test: For some patients, a home sleep test is an option, allowing you to perform the test from the comfort of your own bed.



See a Sleep Specialist
We are here and ready to connect with you. Please call for more information or to request a video visit appointment.