Choose a question from the list
If you have additional questions, please contact us.
---
What documents are required for the application?
ERAS Common Application Form
Medical School Transcripts
MSPE
Three Letters of Recommendation (At least 1 SLOE preferred)
Personal Statement
USMLE or COMLEX scores (USMLE preferred)
We accept applications only through ERAS. Only completed applications are reviewed by the Education Committee.
All aspects of the application are considered and scored. These scores form the basis for granting interviews and resident selection. We are participating in the AAMC ERAS SVI Pilot.
How long is the training program?
We have a three year categorical EM program (PGY 1-3), a five year Emergency Medicine/Internal Medicine combined program, and a six-year program leading to board certification in Emergency Medicine, Internal Medicine and Critical Care. Our training block schedules for EM, EMIM and EMIMCCM are shown here.
Can you tell me more about the EM/IM and EM/IM/CC combined programs?
Please review the overview pages for EM/IM and Critical Care, any further questions are welcome.
How can I apply to the EM/IM/Critical Care Program?
Applicants interested in this program should apply for the EM/IM Residency. The first four years of both combined programs are identical - residents must decide if they want to pursue the EM/IM/CC program before the end of their third year.
Is there a research requirement for residents?
Our Department has a long history of producing quality research. Scholarly activity is strongly encouraged throughout the residency, although a research project is not required for categorical EM residents. The EM/IM residents are required to complete at least one research project.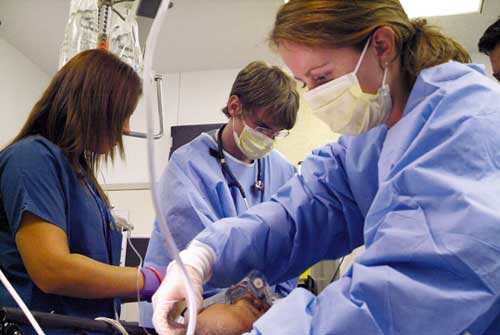 What are the minimum score requirements for Step 1 & 2?
There are no minimum score requirements. All aspects of the application are considered while granting interviews and for resident selection.
When do you send out interview invites?
This year, we will begin extending interview invitations in early November. We use the ERAS Interview Scheduler to send out invitations and schedule interviews, please do not hesitate to call us if you encounter any difficulty in scheduling.
When are interviews conducted?
Interviews are scheduled starting November through mid-January.
Do you sponsor J-1 or H-1 visas?
At this time, we are only sponsoring a J1 visa for those who require a visa
Are there any special requirements for IMGs? How do I apply for an observership?
In addition to the requirements above, International Medical Graduates are strongly advised to have US experience (preferably in EM) prior to applying. Unfortunately, due to the prevalent healthcare regulations, we cannot offer any observerships.
My question isn't listed here!
Please feel free to contact us at any time. Best of luck in securing the residency of your choice.