The Henry Ford Hospital Department of Emergency Medicine values the key role Point of Care Ultrasound plays in the delivery of high-quality, cutting-edge emergency care. The Department of Emergency Medicine Division of Ultrasound established the first Emergency Medicine Clinical Ultrasound Fellowship Program in the state of Michigan beginning in July of 2010.
Resident ultrasound education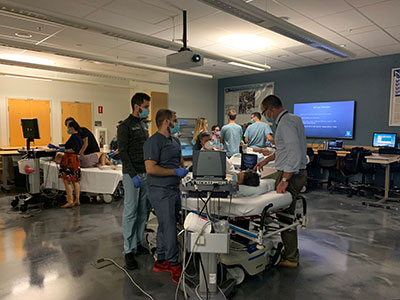 Resident ultrasound training is based on the ACEP imaging compendium and recently published ultrasound milestones. Residents are required to archive 350 scans before graduation, using our wireless image archiving system (Q-path E). Residents document their ultrasound studies using their unique Q-path IDs and submit them for QA. The ultrasound director, core ultrasound faculty, and the ultrasound fellow are readily available to assist residents in the ED with scanning and providing immediate feedback. Resident ultrasound training meets all the basic requirements as recommended by the Residency Review Committee (RRC), and the ACGME. By the completion of the program, residents will be able to integrate the latest Point of Care Ultrasound (POCUS) techniques into their daily practice.
We have a longitudinal curriculum where residents develop their ultrasound skills throughout their three years or training. Outlined below is a brief description of the resident ultrasound program.
Interns
The emphasis during the first year is on building a strong foundation for residents to develop the necessary competencies in all aspects of POCUS. Residents become familiar with the ultrasound user interface and perform common ED ultrasound exams.
Ultrasound training begins in orientation month in July. Residents take a 2-day POCUS course which includes didactics and hands-on practice sessions using live models and phantoms. This session introduces residents to all aspects of POC ultrasound. Residents will also complete their Ultrasound-Guided Central Venous Access training during this month.
One week of intern year is dedicated to Ultrasound scanning in the Emergency Department. During this week, residents will have one-on-one scanning sessions with Ultrasound Faculty. Throughout the rest of the year, there are ultrasound objectives developed for outside rotations, and once every two months we have hands-on scanning sessions in the simulation center using live models as a part of DEM Grand Rounds. In addition to this, residents scan while rotating in the ED and can participate as teaching assistants during the numerous WSUSOM ultrasound training sessions.
Junior residents
The second year is dedicated to a systems-based approach to ultrasound training. Residents participate in Ultrasound Simulation sessions scheduled during grand rounds throughout the year, focusing on musculoskeletal, echocardiography/hemodynamics, abdominal/trauma, procedural, and obstetrics. With the help of core faculty and ultrasound fellow(s), junior residents develop skills to integrate POCUS during patient evaluation in the ED, which allows them to compare their findings to comprehensive studies obtained by sonographers in the ED through the radiology department. Ultrasound is also used for procedural applications including, paracentesis, thoracentesis, central venous access (internal jugular vein), arthrocentesis, and nerve blocks. While working in the ICUs, residents receive additional training in critical care applications of POCUS from the Critical Care Ultrasound faculty. The juniors also have the opportunity to participate during the WSUSOM training sessions where they serve as instructors to medical students during small group training sessions.
Senior residents
Third year residents complete the required 350 ultrasound scans for Level 1 credentialing, well exceeding the minimum requirements in the ACEP guidelines for resident training. Residents may also complete a 4-week ultrasound elective during their senior year which gives them an opportunity to participate in ongoing research projects, to complete the required number of scans, and to learn about advanced applications of ultrasound including echocardiography and hemodynamic assessment of critically ill patients. Senior residents also enhance their ultrasound skills by directly supervising medical students who are assigned to work with them during scheduled ED shifts. Residents continue to participate in Ultrasound training sessions in the simulation center. They also have the opportunity to participate as instructors during the WSUSOM training sessions.
Medical student training
The Henry Ford Hospital has a unique affiliation with the WSUSOM to train medical students in the use of bedside ultrasound through a partnership with General Electric (GE). This partnership was made possible through a $5M grant to the medical school in 2006 with the goal of incorporating ultrasound education into the medical school curriculum at the largest single campus medical school in the nation. GE provides about 40 portable ultrasound systems for training students throughout the year. A longitudinal curriculum has been developed for medical student training across all 4 years of their medical education. This has been a very successful program and has given residents, fellows and faculty excellent teaching opportunities.
Henry Ford Ultrasound University:
The HFH Ultrasound University was established in 2009, with the goal of promoting the widespread use of ultrasound by acute care practitioners in various clinical settings, and to serve as a resource of excellence in patient care and safety standards. Many formal ultrasound courses with CME credits are offered throughout the year, including special courses designed to train residents in specialties such as Urology, General Surgery, Internal Medicine, and Critical Care.
EM residents and fellows have opportunities to participate in these courses as learners and instructors.
Ultrasound equipment
The DEM currently has eight ultrasound systems, including Four SonoSite X-Porte, Three Sonosite S2s, and 1 GE VividQ which has Strain capability. All systems are equipped with multiple transducers for all the various EM ultrasound applications. The department also purchased several Butterfly iQ probes for resident and fellow use. All of the systems have been set up for wireless image archiving using Q-path E, which allows for easy storage of images, provides statistical analysis, facilitates immediate feedback of images, and helps streamline the QA process.