New Treatment Option for GERD: Titanium Beads on a String
July 26, 2018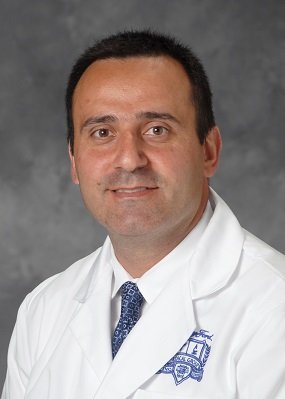 DETROIT – For Eric Gray, living with gastroesophageal reflux disease was distressing. Nagging abdominal pain. Fits of poor sleep. Embarrassing sour burps. Eating was no longer fun, especially for someone with a voracious appetite.
Then he found permanent relief in the form of a small flexible band of titanium beads on a string – an innovative treatment option now offered at Henry Ford Hospital for those living with reflux disease.
Called the Linx device, the beads are surgically placed around the lower esophagus just above the stomach. Because of their magnetic properties, the beads enable the muscles in the esophagus to expand for normal swallowing, then contract to prevent food acid from traveling backwards to the mouth.
Zane Hammoud, M.D, chief of general thoracic surgery at Henry Ford, says five years of data in the United States shows that the device's effectiveness is "nothing short of terrific."
"This is a wonderful device that has been added to our armamentarium for the treatment of gastroesophageal reflux disease," Dr. Hammoud says. "It replicates the physiology of what normally happens in the body."
The device – about the size of a quarter – is intended to bring permanent relief for people with reflux disease, Dr. Hammoud says.
Two months removed from surgery, Gray renders himself pain free. Gone, too, are the medications he used to take. He's also sleeping better. As for his appetite, Gray, a Ferndale resident, says proudly, "I'm back to eating whatever I want." That includes enjoying his favorite flavoring – extra spicy.
Recently, he returned to a local Thai restaurant and placed a carry-out order for spicy drunken noodles. During his reflux days, his stomach could only manage the mild version. The restaurant owner took notice of the order change, remarking cheerfully to him at the check-out counter, "welcome back."
An estimated 10 percent to 20 percent of the U.S. population has reflux disease. Two of the most common symptoms are heartburn and food acid flowing back into the mouth.
Dr. Hammoud says most people can control symptoms with over-the-counter medication. For those who require surgery, a procedure called nissen fundoplication is considered the gold standard, though it's not a long-term solution, he says.
The surgery to place the device is performed laparoscopically through tiny incisions, making it much less invasive than fundoplication. It lasts about 45 minutes, and patients go home either that day or the next. Patients are fed immediately after surgery to start stretching the device.
"The more it stretches, the less scar tissue you get around it," Dr. Hammoud says.
Patients who undergo the procedure with the device have no food restrictions, Dr. Hammoud says, with caution. "We obviously want patients to avoid any triggers for reflux such as caffeine or chocolates or big spicy meals," he says.
For Gray, who has sampled a variety of different foods worldwide during his business travel as an automotive engineer, he's quickly returned to his regular activities as an exercise enthusiast, hockey and soccer goalie and, of course, the favorite one of all. "I'm back to normal and very grateful to Dr. Hammoud and his team. I'm back to doing whatever I want and that includes eating. I love to eat."
###
MEDIA CONTACT: David Olejarz / David.Olejarz@hfhs.org / 313.874.4094