Living Kidney Donor Chain Patients Meet at Henry Ford Hospital
August 19, 2019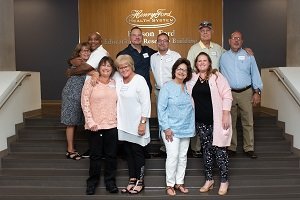 FOR IMMEDIATE RELEASE
Aug. 19, 2019

THE DONORS AND RECIPIENTS:
Donor Kimberly Piskos, 58, and her husband, recipient George Piskos, 57, both of Dearborn
Donor Tiffany Barnhart, 37, and her mom, recipient Holly Dewey, 61, both of Lake Orion
Donor Gary Degnore, 63, and his wife, recipient Cynthia Degnore, 63, both of Warren
Donor Joe Wilcheski, 40, of West Palm Beach, FL, and his dad, recipient Paul Wilcheski, 70, of Canton
Altruistic donor Shelly Wood, 55, of Grand Ledge, MI, and her recipient, Antonio Motley, 49, of Detroit

THE TRANSPLANTS:
Kidney chain:
Kimberly Piskos to Holly Dewey
Tiffany Barnhart to Cynthia Degnore
Gary Degnore to Paul Wilcheski
Joe Wilcheski to George Piskos

Altruistic donor: Shelly Wood to Antonio Motley

DETROIT – Members of an eight-person Living Kidney Donor Chain and a woman who altruistically donated her kidney to a complete stranger met for the first time today at Henry Ford Hospital. All of the transplants took place through the Henry Ford Transplant Institute, which has been providing transplants for patients across Michigan for more than 50 years.
"We are ecstatic to celebrate this incredible example of caring for your fellow man," said kidney transplant surgeon Jason Denny, M.D., director of the Henry Ford Center for Living Donation, a center that focuses on caring for living kidney and liver donors. "The organs are healthier, last longer and the patients do better with living donation. I hope these folks inspire others to consider living donation, or at least joining the organ donor registry by signing their driver's license or registering online."
Last year, 132 patients received kidney transplants at Henry Ford Hospital, 53 from living donors, according to the U.S. Department of Health and Human Services' Organ Procurement and Transplantation Network (OPTN) data. In all, 643 patients received kidney transplants across Michigan in 2018, 209 from living donors. Right now, there are 2,362 people in Michigan waiting for a kidney transplant.
About 6,000 people in the United States make the selfless decision to donate a kidney or part of their liver to family members, friends or strangers each year. Benefits of live donation include: Live organ transplant can often be scheduled prior to the recipient becoming significantly ill (or for kidney patients, before the initiation of dialysis). The health history of the donor is known well in advance, which allows significantly more screening and planning by medical staff.Organs donated through living donation typically last longer and work immediately.For those suffering kidney failure, long-term dialysis has negative effects on the body. This is especially true for diabetic patients, who suffer from severely accelerated mortality on dialysis.
About 50% of live donations occur between relatives. Or some make the decision to donate an organ altruistically to a stranger. Shelly Wood, a married grandmother of two who retired a couple of years ago after working as a foster care supervisor for the State of Michigan for 32 years, is altruistic donor, part of a two-way donation that took place at Henry Ford Hospital on Sept. 19, 2018. These donors freely offer their kidney to whomever needs it.
Shelly had easily made the decision to donate a kidney to her cousin, Jesse Sisk, 36, of Tawas. She had seen living donation save lives before: her son-in-law donated to a cousin, a coworker received a kidney from their child, and another coworker donated a kidney to her parent. Shelly got tested and matched Jesse. But her cousin became sick with an infection and, sadly, died on Dec. 30, 2017. Shelly decided to donate anyway – to whomever was in need.
"By the time she was taken off the list, I had gone through most of the testing and I knew I could donate," Shelly said. "I just knew there were other people out there like her who needed a kidney. I attribute her to this person getting a kidney. She was the one that brought it to my attention and led me to continue on with this. The reality is that there are a lot of people who don't make it."
Her recipient, Antonio Motley, an X-ray technician with the Detroit Veterans' Administration, had been waiting for 2.5 years for a kidney. In May 2015, he thought he had the flu. But when he headed to the ER, he was told he had the bone cancer multiple myeloma. After eight months of chemotherapy and a stem cell transplant in February 2016 with his twin brother, he was designated in remission in May 2016. But his kidneys weren't functioning. Dialysis became his new normal – until the call came from the Henry Ford Transplant Institute. Now, he's cruising Lake St. Clair on a boat he bought this year – and he's grateful to his angel of a donor, Shelly.
"I've been living, enjoying life," he said. "I'm very grateful."
The eight-person living donor kidney transplant chain that took place at Henry Ford Hospital in July 2018 involved two husband/wife couples, a father/son pair and a mother/daughter pair.
Paul Wilcheski's kidneys had failed and he was on dialysis for about a year when his son, Joseph Wilcheski, 40, who works in the defense industry in Florida, found out he was not a match to his dad. The ocean sports enthusiast, Joseph volunteered to donate a kidney to someone else to move his dad up on the list.
"I got a call and like a week later, we did it," he said. "It went great! There was discomfort for the first couple weeks. But after about the 30-day mark I felt completely normal. And I hope the donor is happy!"
In the meantime, Gary Degnore, 63, was watching his wife, Cynthia, also 63, experience kidney failure while doctors tried to figure out what was wrong. Finally determined to be the immune system issue complement 3 glomerulopathy, or C3G, the condition pushed her kidney function to 12% by the time she had a transplant on July 25, 2018. Gary wasn't a match to Cynthia. But two days after her transplant, he donated a kidney to Paul Wilcheski. Now, Cynthia says they are going to work on supporting research on C3G.
"Last year was transplants and this year is weddings," said Cynthia, noting their two sons' weddings taking place in 2019. "I said I'm so glad you both married girls with (universal type) O blood. That's a step in the right direction. We want to make more people aware. My driving force is my kids have 50% chance of having this."
The same day George donated to Paul, Joseph donated his kidney to George Piskos, 57, of Dearborn, a lawyer who spends free time with his wife, Kimberly, rescuing stray and feral cats. A diabetic since he was 12, George had his first kidney transplant from a friend in 1999. Kimberly, 58, who works at a Dearborn-area restaurant, was a match. But George told the two of them to decide who was going to donate.
"They decided my friend would donate because he was older and prophetically he said I may need another one someday, and she'll be younger," George explains. "So 18 years later, that transplant failed. But I had picked up some antigen from one of the transfusions during dialysis that made me incompatible with my wife. That was crushing news for both of us."
Meanwhile, Holly Dewey, 61, of Lake Orion, was also experiencing failure of her second transplant. Also a diabetic since childhood, she started showing signs of the second transplant failing in 2016.
"My daughter at that point said 'I'm donating a kidney to you; I know I'm a match, I'm going to do it," Holly said about her daughter, Tiffany Barnhart, 37, also of Lake Orion. "But the day before, the last test showed I had antibodies to my daughter."
Instead, Holly received a kidney from Kimberly on July 18, 2018. And Tiffany donated her kidney to Cynthia Degnore on July 25, 2018. Holly calls her life a complete turnaround since her illness prior to her transplant at Henry Ford. She's now able to travel, and loves visiting grandchildren in Pennsylvania and seeing her grandson, Tiffany's 17-year-old-son, compete throughout the Midwest in marching band competitions.
"My life is like a 360-degree circle," said Holly, who is training to go back to working in an office setting. "This past year, I went to Pennsylvania by myself to see my son, who has three children, ages 5, 7 and 9. I was never able to do that. Those grandkids had never seen me not sick. Before, they couldn't even hug me. It's fabulous."
Henry Ford nephrologist Dr. Rohini Prashar said the stories illustrate the success of living donor transplant – and the great need.
"It's often been said at the Henry Ford Transplant Institute that these donors are angels on Earth," said Dr. Prashar. "We are grateful for their selfless giving and are honored to be able to help."
To learn more about living organ donation, visit www.HenryFord.com/livingdonation
To sign up on the Michigan Organ Donor registry, go to www.golm.org/go/hfhs
###
MEDIA CONTACT: Tammy Battaglia / [email protected] / 248-881-0809 cell
B-roll of kidney transplant surgery available upon request.
For additional transplant data, visit https://optn.transplant.hrsa.gov/data/view-data-reports/center-data/