Patients, Caregivers and Staff of Henry Ford Cancer Institute Showcase Artistic Talents
October 4, 2019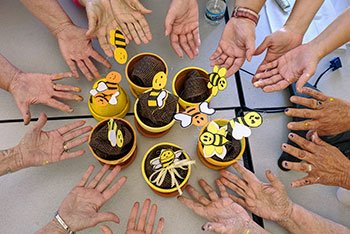 DETROIT – An exhibit of approximately 100 works of art created by the patients, caregivers and staff of the Henry Ford Cancer Institute will travel to several Henry Ford hospitals throughout the month of October. Named "The First Word of Cancer is Can," this art exhibit is a collaboration between
Lilly Oncology
and the
Henry Ford Cancer Institute's art therapy program
, which aims to celebrate the creativity of those affected by cancer.
The schedule of where the exhibit will appear throughout October is below:
Research
suggests that creating art has powerful healing properties because art connects the mind and body. While exercise works the body and meditation helps clear the mind, creating a piece of artwork uses both the body and the mind.
The diagnosis of a chronic illness, such as cancer, can cause a person to feel different types of traumatic emotions, including grief and fear. However, when a patient participates in art therapy, they can expect to see benefits that may help alleviate these feelings. These benefits include:
Relaxation
Self-expression
Promotion of creative thinking and problem solving
Coping skills for diagnosis related depression, anxiety, fear, and suffering
Feeling more hopeful
Feeling a sense of control
If you would like to support the Art Therapy program at Henry Ford Cancer Institute through volunteering, please visit our
volunteer website
. If you would like to support the program by contributing a gift, please call (313) 876-1031 or email
developmenthf@hfhs.org
.
###