Henry Ford to Expand Audiology Services in the Downriver Area
March 26, 2021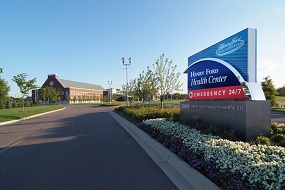 DETROIT – Henry Ford Health System has received a grant from The Carls Foundation that will fund the addition of hearing care services at Henry Ford Health Center – Brownstown.
The grant, in conjunction with Henry Ford's Department of Otolaryngology – Head and Neck Surgery, will enable the renovation of existing space as well as the purchase and installation of critical state-of-the-art audiology equipment. The expansion of services to Brownstown will ensure that people in the Downriver communities receive life-changing care. This support will increase Henry Ford's audiology screenings for at-risk patients, provide important follow-up care and referrals, and ensure better long-term hearing outcomes for people throughout these communities.
"We are grateful to The Carls Foundation for this grant and for the Foundation's longstanding history of generosity to the Henry Ford Health System," said Kathleen Yaremchuk, M.D., chair of the Department of Otolaryngology – Head and Neck Surgery at Henry Ford Health System.
The new hearing center will provide a full range of hearing testing services for patients of all ages, including follow-up for children who do not pass their hearing screenings at birth. Hearing-aid care and other hearing loss services will also fill a significant service gap in this region of the metropolitan area.
"We have been expanding ear, nose, and throat clinical and surgical services in Wyandotte and other downriver communities over that past several years," said Dr. Yaremchuk. "Last year we opened a new ENT center in Wyandotte and expanded our services in the Brownstown center. This grant from The Carls Foundation will further strengthen our Otolaryngology care services to those communities."
The Department of Otolaryngology – Head and Neck Surgery is ranked one of the best in the nation by U.S. News and World Report. Its surgeons and staff provide a full range of clinical and surgical services for ear, nose, and throat problems and for head and neck cancer. It provides specialty care for ear, nose and throat conditions by offering comprehensive diagnostic and treatment services for patients with hearing and balance disorders in six locations. Clinics are located at the Henry Ford Hospital, Henry Ford West Bloomfield Hospital, Henry Ford Wyandotte Hospital and outpatient medical centers in Dearborn, Sterling Heights and Grosse Pointe Farms.
"This generous grant from The Carls Foundation allows us to expand our hearing care and hearing aid services to the Brownstown region and provide support services to our Otolaryngology colleagues at the Brownstown center," said Brad Stach, Ph.D., division head of Audiology at Henry Ford.
Henry Ford Audiology is designated as a "Pediatric Diagnostic Facility" by the Michigan Department of Health and Human Services, a designation that is awarded to those facilities with the expertise and technology necessary to comply with the State's Early Hearing Detection and Intervention Best Practice Guidelines. "Identification and treatment of hearing loss early in life is a critical determinant of language outcomes as children develop. This grant will help us by expanding our reach to meet these important early identification goals," said Dr. Stach.
###
About Henry Ford Health System
Founded in 1915 by Henry Ford himself, Henry Ford Health System is a non-profit, integrated health system committed to improving people's lives through excellence in the science and art of healthcare and healing. Henry Ford Health System includes Henry Ford Medical Group, with more than 1,900 physicians and researchers practicing in more than 50 specialties at locations throughout Southeast and Central Michigan. Acute care hospitals include Henry Ford Hospital in Detroit, MI and Henry Ford Allegiance Health in Jackson, MI – both Magnet® hospitals; Henry Ford Macomb Hospital; Henry Ford West Bloomfield Hospital; and Henry Ford Wyandotte Hospital.
The largest of these is Henry Ford Hospital in Detroit, a quaternary care research and teaching hospital and Level 1 Trauma Center recognized for clinical excellence in cardiology, cardiovascular surgery, neurology, neurosurgery, and multi-organ transplants. The health system also provides comprehensive, best-in-class care for cancer at the Brigitte Harris Cancer Pavilion, and orthopedics and sports medicine at the William Clay Ford Center for Athletic Medicine – both in Detroit.
As one of the nation's leading academic medical centers, Henry Ford Health System annually trains more than 3,000 medical students, residents, and fellows in more than 50 accredited programs, and has trained nearly 40% of the state's physicians. Our dedication to education and research is supported by nearly $100 million in annual grants from the National Institutes of Health and other public and private foundations.
Henry Ford's not-for-profit health plan, Health Alliance Plan (HAP), provides health coverage for more than 540,000 people.
Henry Ford Health System employs more than 33,000 people, including more than 1,600 physicians, more than 6,600 nurses and 5,000 allied health professionals.
###
NEWS MEDIA CONTACT: Sal Giacona / sgiacon1@hfhs.org / 313-421-9108