Making Breathing Easier
May 26, 2021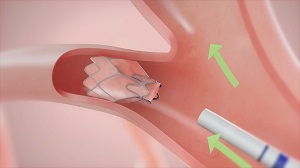 DETROIT (May 26, 2021) – For patients living with the lung disease COPD, performing simple, ordinary tasks like walking up and down stairs, pushing a vacuum cleaner, or even going for a walk can leave them winded.
Lori Soroka, who was diagnosed with COPD six years ago, remembers that feeling all too well. "I couldn't even walk from my car to my garage and into my house without having to stop and take a breath," she said. "I couldn't pick something up and carry it through the house without feeling heavy chested. I couldn't breathe."
Guy LaPorte enjoyed regular walks with his wife, until he could no longer keep up. "She just started outpacing me and outpacing me. At its worst, I wouldn't go but a block," he said.
Those breathless efforts are gone for Soroka and LaPorte. They are among the first 100 patients to undergo an advanced treatment option at Henry Ford Hospital in Detroit that makes breathing easier for COPD patients. Henry Ford was the first hospital in metro Detroit to offer the treatment and has performed the most procedures nationally.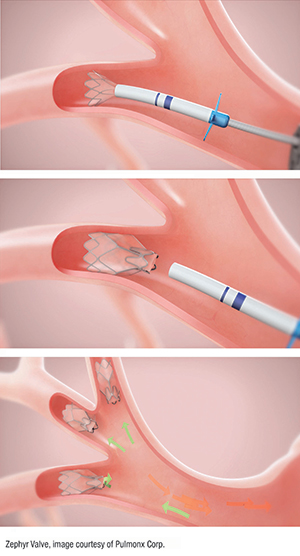 "This is a viable non-surgical treatment option for patients," says A. Rolando Peralta, M.D., a Henry Ford interventional pulmonologist who has performed the most valve procedures to date in Michigan. "Many of our patients have reported immediate relief after the procedure and have more energy in their day-to-day activities."
The procedure involves implanting tiny valves into the airways during a minimally invasive procedure called a bronchoscopy. "The valves make breathing easier by releasing trapped air stuck in the diseased part of the lung, preventing new air from getting in and allowing the healthier parts of the lung to expand," Dr. Peralta said. "The results include easier breathing, better lung function, and improved quality of life."
Nearly 690,000 people are living with COPD in Michigan, according to the American Lung Association. It's also the third leading cause of disease-related death in the United States. COPD, or chronic obstructive pulmonary disease, is commonly referred to as chronic bronchitis or emphysema.
Smoking is the primary cause of COPD, whose early warning signs are shortness of breath or a lingering cough. While COPD has no cure, it can be managed with medication, pulmonary rehabilitation and supplemental oxygen. Lung transplantation is an option under select circumstances. The valve procedure is the newest nonsurgical treatment for COPD.
LaPorte had 40% lung capacity when he was referred to Dr. Peralta by his pulmonologist in Escanaba. His lungs were "beat up" by a combination of asbestos exposure during his military career and years of smoking (he quit in 2000). He also worked six weeks as a Red Cross volunteer at the site of the World Trade Center after 9-11. LaPorte said he felt immediate relief after the procedure. One year later, his lung capacity had increased to 78%.
"When I woke up, the first thing I thought taking a breath was that the anaconda has loosened its grasp and slivered away. It was just instant, instant relief," said LaPorte, 64, a resident of Rapid Rivers in Michigan's Upper Peninsula and grandfather of eight. "I am still amazed by it."
Dr. Peralta says the ideal candidate for the valve procedure is a patient with severe COPD. He recommends that patients discuss with their doctor whether the procedure is right for them.
Soroka said the procedure has improved her quality of life "100 percent." She had been a 40-year smoker before quitting six years ago. She also worked in factories early in her career.
"I can walk around, I can lift things, I can carry things," said Soroka, 61, a school bus driver in Imlay City. "My biggest thing, goal in life, was to be able to go and up my basement stairs, carrying my laundry basket. And now I can do that with no issues. After about 5-6 times up and down, with heavy loads, I have to stop and take my breath. But once I do that, I'm fine again."
The procedure is performed under general anesthesia and takes up to an hour. Most patients are hospitalized for up to five days afterward.
During the procedure, the valves are implanted through a bronchoscope tube that is inserted through the nose or mouth, down the throat and then into the lungs. Shortness of breath is caused when air gets trapped in diseased parts of their lung. This trapped air puts added pressure on the healthy parts of the lung and diaphragm. The valves stop that air from being trapped, giving way for the healthier parts of the lung to take in more air and bring relief for patients.
The valves are the first device approved by the U.S. Food and Drug Administration to treat COPD without surgery.
"The act of breathing comes natural for most people. But for patients living with COPD, it's a constant struggle," Dr. Peralta says. "This procedure has the potential to bring them relief and improve their quality of life."
To make an appointment for a consultation about the procedure, patients may call 313-916-1063.
###
NEWS MEDIA ONLY may contact: David Olejarz / David.Olejarz@hfhs.org / 313-303-0606
About Henry Ford Health System
Founded in 1915 by Henry Ford himself, Henry Ford Health System is a non-profit, integrated health system committed to improving people's lives through excellence in the science and art of healthcare and healing. Henry Ford Health System includes Henry Ford Medical Group, with more than 1,900 physicians and researchers practicing in more than 50 specialties at locations throughout Southeast and Central Michigan. Acute care hospitals include Henry Ford Hospital in Detroit, MI and Henry Ford Allegiance Health in Jackson, MI – both Magnet® hospitals; Henry Ford Macomb Hospital; Henry Ford West Bloomfield Hospital; and Henry Ford Wyandotte Hospital.
The largest of these is Henry Ford Hospital in Detroit, a quaternary care research and teaching hospital and Level 1 Trauma Center recognized for clinical excellence in cardiology, cardiovascular surgery, neurology, neurosurgery, and multi-organ transplants. The health system also provides comprehensive, best-in-class care for cancer at the Brigitte Harris Cancer Pavilion, and orthopedics and sports medicine at the William Clay Ford Center for Athletic Medicine – both in Detroit. As one of the nation's leading academic medical centers, Henry Ford Health System annually trains more than 3,000 medical students, residents, and fellows in more than 50 accredited programs, and has trained nearly 40% of the state's physicians. Our dedication to education and research is supported by nearly $100 million in annual grants from the National Institutes of Health and other public and private foundations.
Henry Ford's not-for-profit health plan, Health Alliance Plan (HAP), provides health coverage for more than 540,000 people.
Henry Ford Health System employs more than 33,000 people, including more than 1,600 physicians, more than 6,600 nurses and 5,000 allied health professionals.