Henry Ford Milk Bank-Jackson Opens Doors and Provides Safe, Pasteurized Human Donor Milk to Babies
June 16, 2023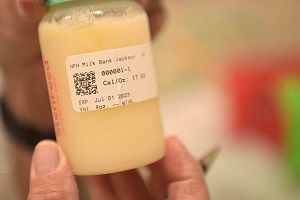 JACKSON, Mich. — Henry Ford Milk Bank-Jackson staff delivered their first batch of safe, pasteurized human donor breast milk to Henry Ford Jackson Hospital today, after successfully completing the Human Milk Banking Association of North America accreditation process (HMBANA).
The non-profit Henry Ford Milk Bank-Jackson is only the second human donor milk bank in Michigan, and the most convenient location for donors in central and southeast Michigan. Henry Ford Health leaders and state and local officials celebrated the accomplishment by participating in a ceremonial ribbon cutting Friday afternoon.
"We're so very proud to be one of the few health systems in the country that provide this service," said Bob Riney, President & CEO of Henry Ford Health. "Having our own milk bank improves our ability to promote the health and well-being of vulnerable infants in Henry Ford hospitals and our communities in a new and exciting capacity."
According to HMBANA, there are approximately 30 other accredited milk banks in the United States; only eight are affiliated with a hospital or health system.
"The milk bank is so important for promoting breastfeeding and improving infant health in our community. As we open our doors, we expand the potential to reduce social disparities and decrease overall health care costs by increasing access to breast milk for those in need," said Emily Moorhead, President of Henry Ford Jackson Hospital.
In instances when a mother would like to breast feed but can't, the Centers for Disease Control and Prevention and the American Academy of Pediatrics recommend donor human milk as the best alternative.
Breast milk's short- and long-term health benefits to infants are well established by the American Academy of Pediatrics. It's proven to reduce the risk of sudden infant death syndrome and is especially important for premature babies in need of additional hormones and growth factors to assist in their development. Babies who consume breastmilk are also less likely to have earaches, stomachaches and colds or develop chronic illnesses including obesity, asthma and diabetes.
The need for donor human breast milk in Jackson is especially great. The city of Jackson and Jackson County consistently report some of the highest infant mortality rates in the state of Michigan. Almost 12 percent of people in Jackson County live in poverty.
"Some mothers don't have the ability to breast feed for as long as or as often as they'd like, or at all. They may have to go back to work or are unable to pump due to societal constraints," said LeTishia Hill, director of Women and Children Services at Henry Ford Jackson Hospital. "By providing safe, pasteurized donor human milk in our hospital, and eventually on an outpatient basis, we are able to give babies the best possible start in life."
The Jackson Community Foundation's Community Needs Endowment Fund awarded Henry Ford Health a grant to begin the process of establishing the milk bank in 2019. U.S. Senator Debbie Stabenow, (D)-Michigan, secured $700,000 in federal funding to make the non-profit milk bank possible.
"There's nothing in the world more important than making sure our youngest Michiganders have a strong, healthy start in life," Senator Stabenow said. "This wonderful, innovative facility is a source of pride for Jackson and an incredible resource for so many families and babies. Thank you to Henry Ford Health and to the generous moms who are donating their milk and making this all possible."
"We're exceptionally grateful to our community partners, particularly Senator Stabenow, for their steadfast support and recognition of the important role donor milk banks play in the health of our communities," said Wendy Kim, DNP, R.N., NEA-BC, Vice President and Chief Nursing Officer for Henry Ford Health's Central Market. "I'm also extremely grateful for our team members whose passion and commitment to promoting breastfeeding made the milk bank possible."
To qualify to be a milk donor, a lactating mother must be generally healthy; a non-smoker; consume limited amounts of alcohol; have the approval of their healthcare provider; be willing to donate at least 100 ounces of breastmilk; undergo a screening process like that for giving blood; and have labs drawn, the cost of which will be covered by the milk bank. Donors are not paid.
Brittany Ganton, a mother of two from Concord, Mich., is among the first donors to the milk bank.
"I am raising a family alongside my closest friends who love and support each other. I know how important it is for women to help and encourage one another, especially in our most vulnerable stages of life," Ganton said. "Donating my extra milk helps me extend that support to women and families outside of my circle."
Once donors pass the screening process, they can drop their milk off at the milk bank at 200 S. East Avenue in Jackson or work with staff to ship their frozen milk.
Henry Ford Milk Bank-Jackson has the capacity to process approximately 1,000 ounces of donor milk per day. Upon receiving donations, milk bank staff screen, pool and pasteurize milk in the on-site processing facility, which is registered with the Food and Drug Administration. Pasteurization eliminates harmful bacteria or other potential infecting organisms. Pooling milk from multiple donors ensures the nutritional value of each serving of donor milk. Milk is stored on-site in commercial freezers.
People who want to donate their milk can reach out to Henry Ford Milk Bank – Jackson at milkbank@hfhs.org.
More information about Henry Ford Milk Bank – Jackson and answers to frequently asked questions about human donor milk can be found at henryford.com/milkbank.
###
MEDIA INQUIRIES: mediarelations@hfhs.org