Living Donor Awareness Night 2023
September 26, 2023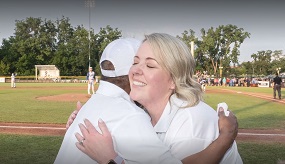 Amid a symphony of sounds -- the crack of a baseball bat sending resounding echoes through the stadium, followed by rhythmic, enthusiastic applause from fans -- Cynthia Williams sat quietly. With her young grandson excitedly standing by her side in the dugout at Jimmy John's Field in Utica, the grandmother's anticipation grew by the moment on this special July night. After receiving a lifesaving gift at Henry Ford Hospital in Detroit—a new kidney—Williams, 68, from Grosse Pointe Woods, was set to meet her living organ donor, Lindsey Dryden, 41, a nurse from Henry Ford Wyandotte, for the first time on the vibrant green field in front of thousands of baseball fans.
Henry Ford Health and the Living Liver Foundation were the reason Williams, Dryden, and a record number of other living organ donors and their recipients met each other simultaneously on that warm summer night. The two organizations were at the field to spread awareness about living organ donation and to honor those who have chosen to give the gift of life—in many cases, to complete strangers—at an event now coined Living Donor Awareness Night.
"It's about paying it forward," said Dave Galbenski, Co-Founder of the Living Liver Foundation. Galbenski says he owes his own life to his living donor. Building awareness around organ donation has since become his mission. Galbenski's foundation and Henry Ford held a similar event at the field last year—and it keeps growing.
"It was about three things: honor, educate and inspire, and we took honor to the next level this year," Galbenski said of the event. "An altruistic kidney donor meeting their recipient for the first time on the field during a baseball game—it doesn't get any better than that. But to see 44 living donors and their guests or recipient on the field with the fans going crazy – [that's] taking honoring to the next level! The Henry Ford Center for Living Donation (CLD) performs an average of 40 living donor kidney transplants and 10 living donor liver transplants per year.
Dr. Marwan Abouljoud, Director of Henry Ford's Transplant Institute, tossed out a pitch and shared hugs and laughs with patients before Dryden and Williams came face to face for the first time.
"My brother-in-law needed a kidney, so I decided to go ahead and get tested to be a living donor," said Dryden. Her brother received a kidney from someone else, and Dryden ended up getting paired with and donating her kidney to someone she did not know: Williams. "I think I just knew it was the right thing to do."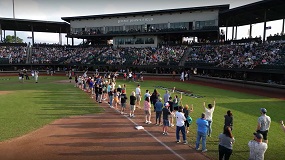 With the dusty base path surrounding them, Dryden and Williams met at last. The energy in the air quickly turned electric. Their genuine grins contagiously transferred to the faces of all those watching the moment unfold, charging the atmosphere with positivity, hope, and a sense of unity.
"I was overwhelmed," said Williams. "I hoped that I would be able to meet my donor, because I'm so appreciative."
Cheers filled the air as the two lives became even more deeply intersected, linked by a profound act of generosity and compassion. Their automatic, shared bond—transcending words.
"I have Lindsey right here," said Williams, who gently patted her abdomen and hugged Dryden. "Makes sense that you're a nurse though, you know -- you care about people. That makes her a double angel. You know that?
"I don't think anybody's ever called me a double angel," said Dryden, with a giggle. The night was bursting with tears of happiness, heartfelt embraces, and hearty laughs, as donors were recognized as the game's hometown heroes. The summer evening at the ballpark turned into a reminder of the preciousness of life and the interconnectedness of humanity.
"It's that instant connection that we have as humans, and it's amplified when someone gives the gift of life: to create those connections and magical moments," said Galbenski. "We witnessed one tonight with Lindsey and Cynthia, and we know the greater community here in Metro Detroit was changed because of that connection tonight. That energy is reverberating out… and that's the power of organ donation."
###
MEDIA CONTACT: mediarelations@hfhs.org