What You Need to Know About the New COVID-19 Vaccine
October 2, 2023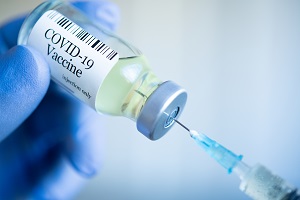 The virus that causes COVID-19 is always changing, making vaccines formulated to fight previous strains of the coronavirus less effective over time. In September 2023, the Food and Drug Administration (FDA) and the Centers for Disease Control and Prevention approved a new version of the COVID-19 vaccine formulated to protect against current strains of the virus.

"I'm really excited that we have this updated vaccine coming out. It's going to work much better for the Omicron variants that are currently circulating," said Dennis Cunningham, M.D., medical director of infection control and prevention at Henry Ford Health. "Omicron has changed enough that those old vaccines aren't working quite as well."

Most Americans are eligible for the newest shots from Moderna and Pfizer and its partner BioNTech even if they've never had a coronavirus vaccination. It's shift towards annual updates to the COVID-19 vaccine, like the yearly flu shot.
"Vaccination is one of the best ways we can protect ourselves against any infection," Dr. Cunningham said.

Below are some frequently asked questions about the new COVID-19 vaccine. This article will be updated as new information becomes available.

What's the difference between the new COVID-19 vaccine and previous versions?
Experts expect the vaccine approved in September 2023 to help fight the current rise in COVID-19 cases and mutated virus variants, as most people's immunity has reduced. The one new vaccine is produced by both companies.

The new mRNA vaccines target a specific variant, XBB.1.5. Preliminary research indicates these vaccines could also defend against dominant variant EG.5 and concerning variants like BA.2.86. The reformulated Novavax shot against XBB.1.5 was approved Oct. 3 and is open to anyone age 12 and older.

The new vaccines exclude protection against the original virus.
Which vaccines are available?
Right now, single-dose COVID-19 vaccines are made by Pfizer-BioNTech and Moderna. Novavax's COVID-19 vaccine was approved earlier this month.

Who can get the newly-approved COVID-19 vaccine?
One dose of the updated COVID vaccine is recommended for all individuals 5 years and older. CDC guidelines say individuals in certain risk groups may receive additional doses with their health care provider's guidance.

Vaccination is also recommended for kids ages six months to five years, but the number of shots are based on which vaccine (Pfizer-BioNTech or Moderna) they receive, as well as their age.

When should I get the newly-approved COVID-19 vaccine?
Those with a higher risk of severe illness should get the updated COVID vaccine as soon as possible. Experts recommend that everyone who is eligible get their updated COVID vaccine by mid-October.

Do I need to get the new vaccine if I've already had COVID?
It important to stay up to date with your vaccines even if you've recently had COVID. The CDC recommends you wait three months from the onset of symptoms to get the shot. If you had an asymptomatic case, wait until three months after your first positive test to get the shot. Dr. Cunningham said those who are high-risk and able should get the new COVID-19 shot as soon as possible.

I just got a dose of the old vaccine. When can I get the new one?
CDC guidelines say those 5-years-and older should wait at least two months following the last dose of any COVID-19 vaccine before getting the updated COVID vaccine.

How much does it cost?
While initially free in the U.S. during the COVID-19 Public Health Emergency declaration, the vaccine's cost is now determined by private insurers and government payers. Many people will still receive it for free. Vaccination continues to be an essential tool in protecting people from severe disease. If you are uninsured or underinsured, you can receive free COVID vaccines at local health centers, pharmacies, and health care providers, through the Bridge Access Program.

Which COVID-19 vaccine does Henry Ford offer?
Henry Ford offers the Pfizer COVID-19 vaccine.

Where can I get my shot and when?
Henry Ford expects to have the new vaccine in stock sometime in October. At that time, appointments can be made via MyChart. Until then, Henry Ford encourages patients to get their flu and COVID-19 vaccines wherever it's convenient. You can find a COVID vaccination site near you at vaccines.gov.

Can I get the flu shot and the COVID vaccine at the same time?
Yes. There is no downside to getting both at the same time. Many of the same people at high risk of severe illness from COVID also have a high risk of severe influenza. Especially for these vulnerable populations, it's a good idea to get both vaccines together.

Does a new shot mean new side effects?
No. Potential side effects reported for the updated COVID vaccine are the same as with the previous vaccines.
###
MEDIA CONTACT: mediarelations@hfhs.org