Cancer Research Spotlight
The Henry Ford Cancer hosts a robust research program that focuses on clinical and translational research. That means that we take what we learn in the lab and deliver it to the patient bedside.

In Detroit, people know Henry Ford Health System as a place to receive excellent care for cancer or any other condition. In Michigan and beyond, medical professionals know us as a research center where investigators ask timely questions and publish studies in top journals.

On this page, we highlight some of our cancer researchers' most exciting recent developments. Please check back often for new information about our work. Learn more about our cancer research areas of emphasis.
Research spotlight: Breast Cancer Disparities
Melissa B. Davis, Ph.D., established the Davis Lab within the Henry Ford Department of Public Health Sciences. The Davis Lab conducts molecular epidemiology and molecular genetics research concerned with cancer health disparities and environmental factors that impact the etiology of breast cancer subtypes. Dr Davis partners with the Henry Ford Breast Oncology Program in establishing a research agenda for the International Center for the Study of Breast Cancer Subtypes (ICSBCS). The center is focused on the discovery of novel genetic associations among people of African descent. Together, they focus on the role that ancestral genetics plays in predisposition to aggressive tumor types and/or oncogene regulation and function. They are also highly interested in the role of ancestry in immune responses related to tumor progression and how this may translate to aggressive subtypes in specific populations.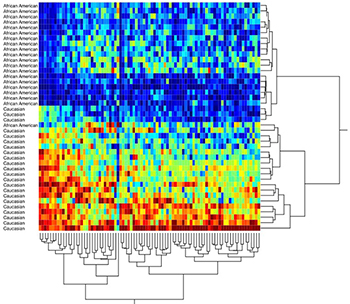 A persistent and increasing higher breast cancer mortality rate in African Americans, compared to white Americans, was unveiled at the emergence of targeted therapies. Disparities are caused by a number of interacting factors. The first separation of morality lines coincides with the introduction of targeted therapies, which unveiled key differences in tumor biology between African American and white American women. There is a pressing need for research investigating population-specific genetic factors that explain the disproportionate incidence of aggressive Breast Cancer (BrCa) in young African American (AA) women. Recently, a new appreciation of human molecular diversity among genetic ancestry groups has ignited investigations of biological causes of cancer disparities. These studies have revealed a bias of certain BrCA subtypes with a higher prevalence in specific ethnic groups that correlates with negative clinical outcomes. Specifically, the ethnic disparities of higher mortality rates and more frequent occurrence of triple negative breast cancer subtypes in both Africans and African Americans as an early onset disease suggests there is a genetic component driving a distinct susceptibility within these populations.
The DARC side of breast cancer: The DARC gene and its role in immunobiology
The Duffy Null (Fy-) allele of DARC, which has reached fixation in certain African populations, conferring immunity to malaria, as it removes the expression of DARC on red blood cells. Specifically, the polymorphism (rs2814778) (Fy- allele) is very rare in populations outside of Africa; with an average 98% allele distribution in Africa, over 75% in AA and under 20% in Whites.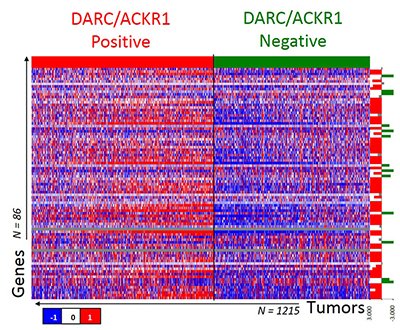 The extensive displacement of significant numbers of Africans across the world during the TransAtlantic Slave Trade has resulted in a unique admixed population of both African and European descent, African-Americans (AA) in the U.S., with similar admixture abroad. Our lab has recently established that the DARC isoforms have a distinct pattern of expression in HAPMAP lymphoblast lines derived from individuals of African, African American and European descent. Aside from its role in malaria, DARC is a ubiquitously expressed atypical chemokine receptor (aka ACKR1), which modulates chemokine gradients between tissues and blood and so mediates the influx of neutrophils and monocytes from blood vessels into tissues.
Recent findings
We have previously shown that the DARC transcript isoforms are distinctly expressed in people of African Ancestry, due to the Duffy null mutation. This exciting finding has far-reaching implications, including a distinct regulation of chemokine levels in African, African-Americans and Afro-Latino populations that will ultimately re-define immune responsiveness in these groups. In our studies, we also see that tumor-specific DARC expression status is associated with a host of inflammatory genes' expression, possibly driving a distinct immune response.