Head and Neck Cancer Research
Our head and neck research program is a collaboration between clinicians, clinician-scientists and PhD researchers who specialize in laboratory, translational, and clinical research. As a result, our doctors integrate head and neck cancer research into the care we provide patients every day. Our head and neck cancer researchers are pursuing a robust array of research activity, including:
Investigator-initiated trials
Industry and cooperative group trials
Research grants in basic/translational research submitted to the National Institutes of Health (NIH), U.S. Department of Defense and other funding clinical research agencies.
Clinical trials can have immediate benefit to individual cancer patients, whereas basic/translational and clinical research looks to have future impact on the prevention, treatment, and care delivery of head and neck cancer.
Patient-driven research in head and neck cancer
In recent years, hospitals and research institutions have begun recognizing the importance of patient and family input in determining outcomes that matter in research.
For example, doctors generally focus on patient survival by eliminating tumors using surgery, radiation and other treatment. Patients care about survival too, of course. But they also worry about side effects, time off work and their ability to care for their families.
At Henry Ford, we're taking the idea of patient engagement a step further. We're asking patients to help drive our head and neck cancer research. Listening to patients offers:
Accurate quality-of-life reports: Patients may experience different levels of quality of life than their doctors or nurses might report.
Better predictors of survival: Quality of life can predict survival more accurately than American Joint Committee on Cancer (AJCC) cancer staging.
Quality improvement: By knowing what matters most to patients, we can improve the quality of care we deliver. Quality improvement can affect reimbursement, and most important, it allows us to meet our mission of caring for people.
Henry Ford Patient Advisory Council


The Patient Advisory Council and clinical practice

Patient-centered outcomes research funding

Our current patient-centered research
Artificial intelligence studies
We have a number of current studies that are exploring the use of artificial intelligence to improve treatment of head and neck cancer. These include:
Analyzing imaging data using head and neck radiomics approaches to predict outcomes and personalize radiation treatments accordingly
Using machine learning to augment analysis of pathology slides
Deep learning techniques to improve early symptom detection in patients undergoing treatment for head and neck cancer
Clinical trials (investigator initiated)
Immunotherapy trial (Henry Ford Health 1801)
This study, developed at Henry Ford, is designed for patients who have had first-line surgery treatment that failed. The new treatment uses immunotherapy to help prevent recurrence, and as part of this we have developed a focus area for treating the most difficult, complex cases.
Photoimmunotherapy trial for precancers
Similar to photodynamic therapy, this links a cancer-specific antibody to a photo sensitizer.
Gabapentin
We conducted an investigator-initiated phase III randomized double-blind, placebo-controlled trial to assess the impact of gabapentin in reducing mucositis related pain in patients undergoing radiation therapy for head and neck cancer.
Hypothermia and prevention of taste loss
Our investigators have developed a device (patent-pending) to alleviate or prevent taste loss in patients receiving head and neck radiation.
Clinical trials (COOP group)
Two of our researchers, Steven Chang, M.D., and Farzan Siddiqui, M.D., PhD are active investigators in NRG Oncology, an organization that focuses on conducting multi-institutional phase II and phase III clinical trials – as well as phase I and translational biological studies imperative for oncologic research of the future.
Find out more about our latest investigator initiated and cooperative group clinical trials.
Cancer Research Network
We are currently directing a collaborative scientific working group in the Cancer Research Network to study head and neck cancers. This collaborative consists of 10 institutions and a large group of patients with head and neck cancer with complete medical records available.
The patients are ethnically, racially and geographically diverse. Together, this collaborative aims to advance the understanding of head and neck cancer treatment in patients across a wide spectrum.
Translational research
Characterizing promoter methylation in keloid pathogenesis across the whole genome
Signaling events in the cell play a critical role in how the body performs key biological functions, including the formation of keloid scars. We're studying keloid-specific genes using the Pathway analysis framework.
With this work, we aim to identify distinct signaling pathway networks and master regulators. Our goal is to gain knowledge of the molecular workings of genes as differential targets or the treatment of keloids.
We're hopeful that this strategic, comprehensive approach will help make progress toward identifying and validating prognostic, diagnostic and therapeutic biomarkers in keloids
Identifying immune markers of response to immunotherapy in head and neck cancer
Recent clinical advances with drugs that block immune checkpoints, such as nivolumab (Opdivo®), have brought immunotherapy out of the realm of highly specialized therapy and into the mainstream of oncology.
However, the building momentum for these new drugs and treatment combinations in oncology comes with increasing costs to the consumer. The challenge has been to find out why some patients respond whereas others do not. Our goal is to establish genetic markers as:
Novel immune biomarkers: These markers will tell us about the presence of tumor-immune infiltrating cells (TILs). They also may be useful in predicting the prognosis in head and neck cancer.
A predictor of high mutational load (using next generation sequencing): If these markers do predict mutation, they may be useful as a biomarker of response to immune checkpoint therapy in HNSCC.
Innovative treatments for head and neck lesions
Radiofrequency ablation of benign thyroid nodules: This thermal ablation technique shrinks thyroid nodules without surgery.
Image-guided and adaptive-radiation therapy: Our radiation oncologists utilize image guidance to deliver radiation therapy and constantly monitor changes in patient anatomy and tumor response. This adapts for these changes during the course of radiation therapy to increase dosage while minimizing side effects.
Stereotactic radiation: Extremely precise high-dose radiation therapy is delivered to selected patients with recurrent or second primary head and neck cancers when all other treatment options may not be possible. This treatment is offered at very few high-volume specialty centers.
Hyperthermia with concurrent radiation: Designed for patients with recurrent, persistent inoperable cancers who have who have had previous surgery and radiation treatment, this new approach fuses both heat and radiation therapy into one treatment.
New TORS applications: While transoral robotic surgery has been an effective alternative to open surgery, we are now looking at it for recurrent cancers and as a tool in reconstructive procedures.
Reconstruction surgery: This ongoing study is for patients who undergo free tissue transfer reconstruction after salvage cancer surgery to reduce length of stay and enhance wound healing.
NavDx®: This liquid biopsy test analyzes tumor-tissue-modified DNA in the blood to detect Human papillomavirus (HPV)-related cancer. In clinical studies, NavDx® has established its ability to monitor head & neck cancer recurrence.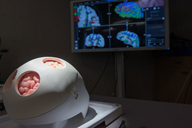 Join Our Research Team
Find out more about how to join the Henry Ford Cancer Research team.
Our researchers
Medical doctors who work with patients every day lead our head and neck cancer research team. Our medical researchers collaborate with scientific investigators to apply what we learn to our patient care, right away.
Head and neck cancer research scientific members