Three Survivors of Glioblastoma Brain Cancer Celebrate 10 Years of Life Post-Diagnosis
May 8, 2019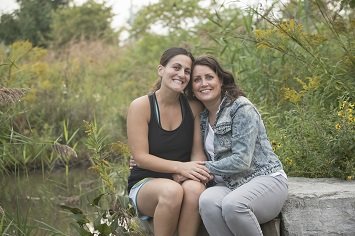 DETROIT – Sasha Archer, Danielle Gillespie and Chris Gee will celebrate 10 years of life since their glioblastoma diagnoses from 4-5:30 p.m. on May 8 at Henry Ford Hospital in Detroit. The three survivors, their family and friends, and their medical care teams will celebrate by releasing live butterflies at 5:30 p.m. on Henry Ford Hospital's E&R Tennis Courts.

Glioblastoma is the most common and most aggressive type of malignant primary brain tumor. The tumors are challenging to treat because they are inherently resistant to conventional therapy and malignant cells tend to migrate to adjacent brain tissue, among other factors. Despite its reputation, a glioblastoma diagnosis is not necessarily a death sentence, thanks to significant medical advancements in recent years.

"The average survival for glioblastomas in the United States is less than two years," says Steven Kalkanis, M.D., medical director of the Henry Ford Cancer Institute and chair of the Department of Neurosurgery at Henry Ford Health System. "But over the last decade at Henry Ford, through innovative clinical trials and precision medicine, we've seen a tripling of the number of very long-term survivors for the most malignant forms of brain cancer. The percent chance of surviving eight years or more after a glioblastoma diagnosis is, on average, less than one percent, but more and more patients are now beating the odds."

While Sasha, Danielle and Chris are all unique for their much-longer than average length of survival following a glioblastoma diagnosis, they are also unique in another way – none is the 'typical' glioblastoma patient, as the disease most often affects men over the age of 60. At their time of diagnosis, Danielle was 21 years old, Sasha was 28, and Chris was 39.
Sasha and Danielle: Friendship Through a Shared Battle
Sasha and Danielle were diagnosed only weeks apart in 2009. Sasha was working two jobs at the time, and Danielle had just started nursing school and was planning her wedding.

Danielle was carpooling with fellow students to her second day of nursing school when she had her first seizure. She woke up to paramedics taking her out of the car. The next day, she met neuro-oncologist Tom Mikkelsen, M.D., neurosurgeon Konstantin Elisevich, M.D., and Dr. Kalkanis. Tests determined the cause of her seizure to be a golf-ball sized tumor in the right side of her brain. Wasting no time, her team of doctors began mapping out a plan to remove her tumor and develop a path to recovery.

Sasha woke up one morning in a cold sweat, and then began to experience changes in her personality. A few days later, coworkers took her to the hospital when they recognized that she couldn't manage basic tasks and it was apparent something was wrong. She was diagnosed with a glioblastoma in her left frontal lobe, and soon after was admitted to Henry Ford West Bloomfield Hospital where neurosurgeon Ghaus Malik, M.D. and oncologist Thomas Doyle, M.D. teamed up to address her case.

Through the course of their treatment, Sasha and Danielle connected via phone to share stories about their experiences. They discussed the side effects of chemotherapy, their concerns about fertility and how coincidental it was that the two of them were diagnosed so closely together. They formed a strong bond and friendship that still exists a decade after their diagnoses. Learn more about their stories here.
Chris: Turning to Hermelin Brain Tumor Center
Chris' diagnosis came when he was experiencing severe, non-stop headaches. On Sept. 4, 2009, he underwent a CAT scan when he began to have blurry vision. He learned that he had a brain tumor approximately the size of a tennis ball, and even more concerning – it was glioblastoma. While he knew this was reportedly 'the worst' cancer, he learned his tumor was in the best spot for removal – his right frontal lobe.
Chris underwent surgery in Grand Rapids to remove the tumor. After a successful surgery, he enrolled in a clinical trial in addition to chemotherapy and radiation. In early 2011, he had to be taken off the clinical trial, as it was starting to affect his kidney function. Approximately two months later, a spot showed up on his MRI that proved to be a recurrence. Chris was given devastating news – the tumor was inoperable. That's when he was referred to Henry Ford's Hermelin Brain Tumor Center.
At the Hermelin Brain Tumor Center, Chris enrolled in a clinical trial led by Tobias Walbert, M.D., director of neuro-oncology at Henry Ford Cancer Institute. He took one pill three days per week. Over time, his scans began to get lighter and lighter until one day, the tumor was no longer present at all. Nearly 10 years since his initial diagnosis, Chris is tumor-free and celebrating his wonderful outcome. Learn more about Chris' story here.

To learn more about the Hermelin Brain Tumor Center or to request and appointment, visit henryford.com/braintumor or call (888) 777-4167.

###

MEDIA CONTACT: Jeff Adkins / [email protected] / (586) 307-2027