The Support Squad: Why It's Important
After a cancer diagnosis, it's important to create a support system to help manage the roller coaster of emotions – fear, depression, anxiety – and regain a sense of normalcy
"Your support group will be there on your worst days to pull you up, and they'll celebrate your small wins," says Camille Romain, manager of social work.
Pick your people
You have the right to ask for and accept help. People may surprise you with their interest and availability. Camille says to pick family, friends, neighbors and co-workers to assist with specific tasks, such as:
Medical appointments: Select a good advocate to take notes and ask questions.
Talking: Trust your gut to find a good listener who makes you feel comfortable.
Meals: Pick people to bring meals – homemade or store bought. Tell them your appetite may change.
Pet care: Animal lovers can walk your dog, feed your cat or whistle to your bird.
Hobbies and entertainment: Look for someone who likes to laugh, play games or watch movies. Artsy people are great for creative projects.
Laundry or housekeeping: Choose someone orderly to help with housekeeping and laundry. A tidy house can be a mood booster.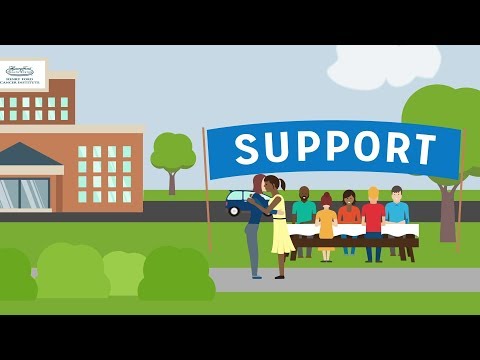 Play
Your Cancer Support Services
From diagnosis to treatment and beyond, learn more about our Cancer Support Services.
Be specific
Try asking questions like this: "Can you please do my laundry each week until I finish chemotherapy?" Or, "Can you watch a movie with me this Friday evening?"
Help wanted: Cancer experience required
"Cancer patients and survivors may have the compassion, strength or hope that resonates with your needs," Camille says. Henry Ford has support groups for patients with specific cancers.
Also, Imerman Angels, a nonprofit organization, connects patients to others who have had similar cancers.
No trespassing?
Highly independent patients often thrive on normal routines. Offers for support may be reminders of sickness and losses. Still, try to gracefully accept acts of kindness. Gratitude is your next best friend.
Friends and family take note
"Be respectful of the patient's feelings and preferences, reassuring them you're available to help," Camille says. "Call or text before a visit." When all else fails, follow your intuition.