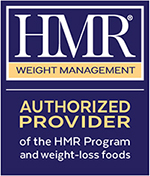 If you're looking to lose weight quickly without the need for medical supervision, the HMR® Healthy Solutions weight-loss program is for you.
Designed by health professionals to maximize weight loss without the need for medical supervision for most people,* the HMR Healthy Solutions Program follows a diet that is simple to stick with, filling so you don't feel hungry, and with lots of delicious variety.
The Healthy Solutions Program includes:
A structured, easy-to-follow, and filling diet
HMR Shakes, Puddings, Soup, Entrees, Bars, Multigrain Hot Cereal and fruits and vegetables of your choice
Weekly group meetings virtually and at the Center for Weight Management/local clinics
Lifestyle education with individual plans for building healthy eating habits and practicing doable levels of physical activity
Weekly coaching calls with a trained HMR Health Educator
And proven results!
Always consult your physician before beginning any diet or exercise program.
Some of the material used in this site is owned by Health Management Resources Corporation (HMR) of Boston, Massachusetts, and is used with its permission. Click on the Notices and Disclaimers link for more specific information about the relationship of HMR and this site and other important information. Notices and Disclaimers.