Women's Health Virtual Care Options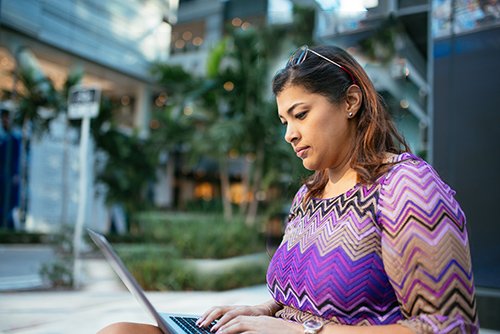 Sometimes it's not practical or convenient to get medical care or advice in person, so we offer a range of virtual care options for many women's health concerns. You can get care at home, at work or on the go, using your smartphone, tablet or laptop, to connect privately and securely with a Henry Ford OB/GYN or midwife.
The virtual care options for Women's Health include video visits and e-visits. Both types of encounters require that you have a Henry Ford MyChart account.
If you're brand new to Henry Ford Health, or are already a patient but have not set up a MyChart account, you can learn more here.
Most insurance companies cover virtual video visits the same as they would an in-office visit. Check with your individual insurance plan for any clarification you need. Some insurance companies cover e-visits, but you can also pay an out-of-pocket fee of $35 for an e-visit conducted through MyChart.
MyChart video visits are a convenient option for routine, non-urgent issues and certain types of follow-up care, including:
Contraception: connect with a provider about options for birth control.
Post-surgery: check in with your doctor following certain types of gynecologic surgery.
Prenatal care: If your OB/GYN or midwife confirms that you're a candidate, you can have many of your prenatal checkups virtually.
Ultrasound follow-up: if you had an ultrasound to help diagnose a gynecologic problem, you can connect with your provider virtually to discuss the results and learn about next steps.
Endometriosis follow-up: a virtual visit may be an option for discussing treatment options or ongoing care.
Abnormal uterine bleeding: connect with your provider if you're concerned about heavy periods or bleeding between periods
Urinary Tract Infection (UTI): get advice and relief for this common condition
Abnormal Pap: if yearly screening for cervical cancer show abnormal results, your provider can discuss the findings and discuss what, if any, additional follow-up is needed
Vaginitis: for symptoms of a vaginal infection or inflammation, such as a yeast infection, get recommendations for treatment, including prescription and over-the-counter treatments.
Menopause: learn about treatments to relieve hot flashes, vaginal dryness, low energy & other symptoms.
Post-partum care: Check in virtually with your doctor or midwife to ensure you're healing properly after childbirth and to discuss any concerns you have, physical or emotional.
Urogynecology/Pelvic Health & Continence: New patients can have a virtual consult with an expert about urinary incontinence, accidental bowel leakage, vaginal bulge, pain with urination or UTI symptoms and overactive bladder. Existing patients can connect virtually for follow-up on medications for bladder-related conditions and to discuss treatment options for prolapse.
MyChart E-visits can provide a simpler option to a video or in-person appointment for the some very common female health concerns:
Urinary symptoms: use a guided questionnaire within MyChart to detail your symptoms. Your provider will respond, usually within 24 hours.
Vaginal discharge/irritation: use a guided questionnaire within MyChart to document your symptoms. Your provider will respond, usually within 24 hours