A Day in the Life of a Fellow
You can expect a very thoughtful and well-rounded curriculum in the Cardiovascular Disease Fellowship. Rotations and clinical experiences are carefully curated and set in a supportive and collegial environment. We hope that as you discover our program, it becomes evident that your well-being and personal development are our top priority. To gain a better sense of what it is like to be a fellow here, we have included some pictures of the daily life of general cardiology fellows during core rotations. We hope you find it useful.
Cardiology consultation service
Fellows on the consult rotation gain the skills to be excellent consultants while providing compassionate care to patients. Fellows manage an inpatient cardiology consult team that provides recommendations to the 65-bed cardiac telemetry ward as well as the hospital's non-cardiology services. Trainees are exposed to a wide range of common cardiovascular conditions. Additionally, they also become proficient in treating rare and complex cardiovascular disease in non-cardiac patients. Fellows benefit from guidance and autonomy provided to them by our world-class full-time senior staff cardiologists.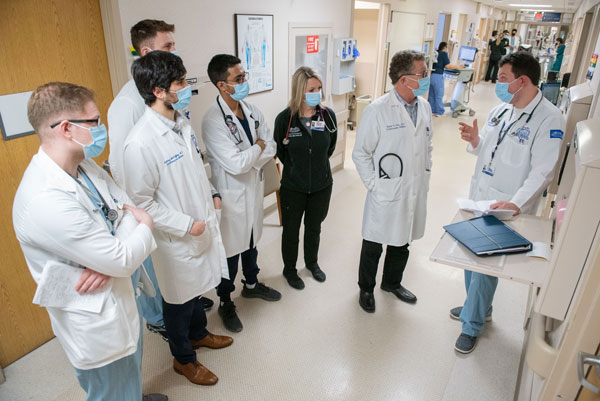 Above: A resident presenting his patient to the consult team. The team is composed of fellows, residents, medical students, nurse practitioners, and one senior staff cardiologist.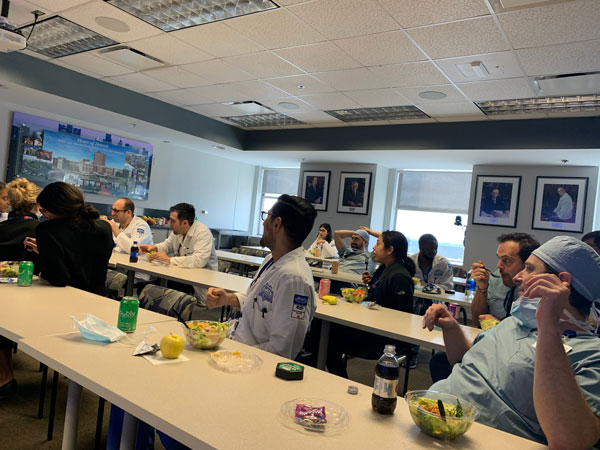 Above: Every day, fellows attend general cardiology noon conference in our state-of-the-art conference room. Noon conferences are designed to cover topics you will need for your future practice, general cardiology boards, and subspecialty boards. Talks are given by both senior staff and fellows. They also include Grand Rounds with thought leaders from across the globe. As an added benefit, lunch is provided daily!
Cardiac intensive care unit
The Henry Ford Hospital cardiovascular intensive care unit (CICU) is a 32-bed combined cardiology and surgical ICU. During the CICU rotation, fellows diagnose and manage patients with cardiovascular and critical care diseases including life-threatening acute coronary syndromes, cardiac arrhythmias, congestive heart failure, hypertensive emergencies, and acute aortic syndromes. Patients are admitted to the CICU from the Henry Ford Hospital emergency department, cardiac catheterization lab, cardiac electrophysiology lab, other inpatient units, outside referring hospitals and urgent care centers. As a cardiac transplant, cardiogenic shock, and complex arrhythmia and revascularization center of excellence, our unit receives the most complex tertiary and quaternary care transfers from hospitals throughout the region. As the primary service, team members are empowered to manage the entire spectrum of critical illness, including all forms of cardiac mechanical support including ECMO.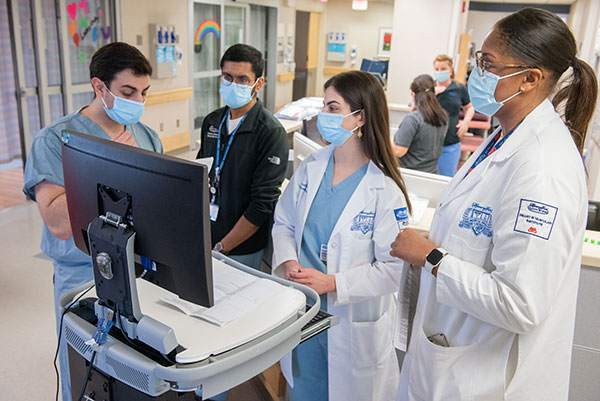 Above: A patient being presented to the fellow and senior staff during CICU rounds. The CICU team is composed of a fellow, residents, medical students, pharmacists, nurses, and one full-time senior staff cardiologist.
Advanced heart failure and transplant service
The experience on the advanced heart failure and transplant service is a distinguishing characteristic of our program. Training in a program with a robust cardiac transplant service will elevate your training, enhance your other rotations, and prepare you for whatever field you ultimately choose. Our fellows are taught advanced invasive hemodynamic monitoring, pre-transplant evaluation, post-transplant immunosuppressive management, myocardial biopsy interpretation, and management of mechanical circulatory support including ECMO, implanted ventricular assist devices, and other forms of artificial hearts.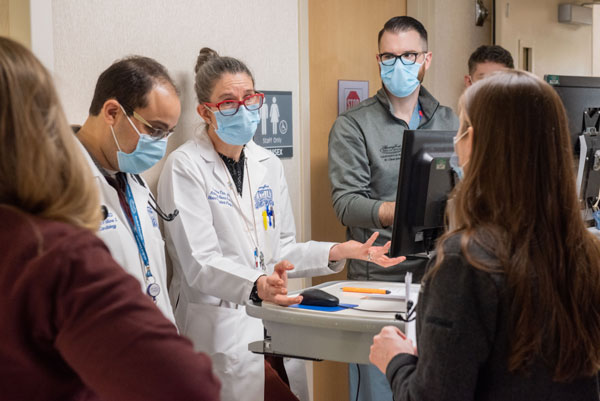 Above: Our advanced heart failure and transplant cardiologist on rounds, flanked by the general cardiology and the advanced heart failure fellows. One of the primary educational activities on the rotation is daily bedside teaching rounds. During these rounds, the fellow takes an active role in patient management and oversees a team of residents rotating on the service. The advanced heart failure fellow supports the general fellow and provides additional teaching and guidance, enhancing their educational experience.
Echocardiography
The echocardiography rotation is designed to train fellows in transthoracic, transesophageal, and stress echo. Early in their first year, fellows have the advantage of being paired with dedicated teaching sonographers who provide hands-on instruction in the fundamentals of scanning. Fellows read studies under the direct supervision of echo board-certified full-time cardiovascular imaging faculty and receive guidance, feedback and evaluation by the echo lab supervisors/directors. All cardiology fellows are given the ability to obtain COCATS level 2 independent proficiency in echo.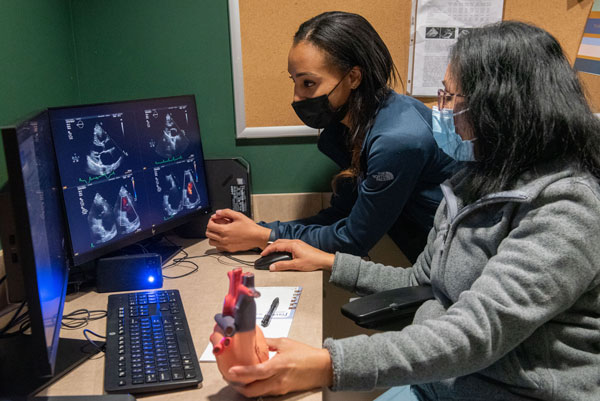 Above: A cardiology fellow reading one-on-one with an echo board certified senior staff cardiologist. Fellows routinely pre-read studies and then review them with the faculty.
Nuclear cardiology
The nuclear cardiology rotation focuses on teaching the principles of nuclear medicine, cardiac physiology and pharmacology, as well as stress testing. Fellows learn the skills of the adequate performance and interpretation of the full spectrum of nuclear cardiology studies with all the latest protocols for stress perfusion imaging including CT attenuation correction, amyloid imaging, MUGA, SPECT/PET imaging for ischemia/viability and full range of PET blood flow analysis for ischemia and microvascular disease and sarcoidosis imaging. All cardiology fellows are given the ability to obtain COCATS level 2 independent proficiency in nuclear. As an added benefit, our program provides all fellows with the 80-hour nuclear curriculum required for nuclear board certification.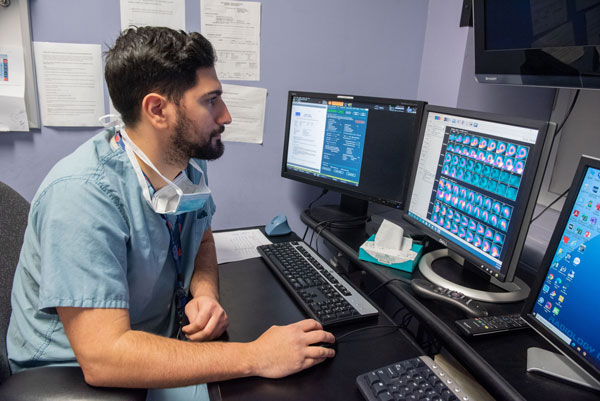 Above: A fellow pre-reading studies in the nuclear lab. Mornings are spent supervising, processing, and pre-reading studies. In the afternoons, fellows finalize their studies with nuclear board certified cardiologists.
Cardiac catheterization
The cardiac catheterization rotation enables our fellows to obtain cognitive and procedural proficiency in invasive cardiology. In our program, we believe all fellows should be given the opportunity to achieve independent proficiency in performing cardiac catheterization, and thus all fellows are offered COCATS level 2 training, with the option to do more or less depending on interests. Fellows are trained in the fundamentals of coronary angiography and hemodynamics, and serve as the primary operators on all diagnostic cases and most interventional cases. Fellows are supervised by our full-time interventional cardiologists who are assigned for the entire day to the lab.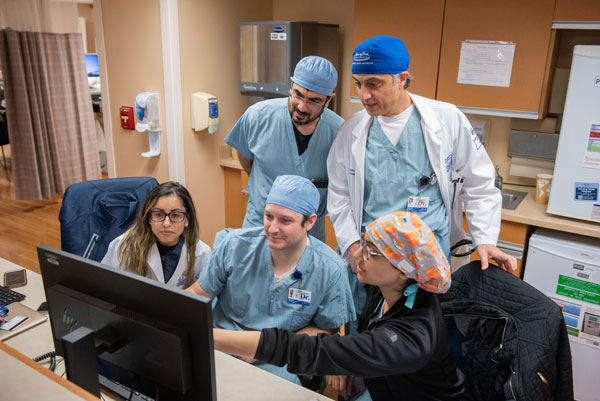 Above: Fellows discussing a case with our interventional cardiology faculty in the cath lab.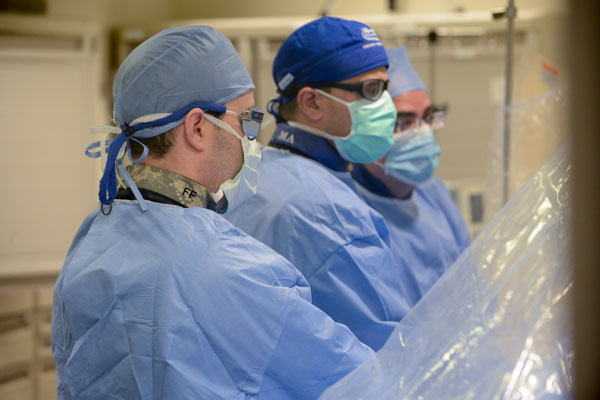 Above: Fellows scrubbed in to a cath procedure with their senior staff.
Electrophysiology
During the EP rotation, fellows learn about the fundamentals of electrophysiology. Fellows learn the indications for EP studies, ablations, pacemakers, biventricular devices and ICD's, as well as the risks and benefits of these procedures. The fundamentals of cardiac pacing and a basic understanding of both normal and abnormal pacemaker function are taught. Fellows gain an understanding of the appropriate use and contraindications of antiarrhythmic agents, including the potential for drug interaction and proarrhythmia. Particular focus is given to interpretation of complex arrhythmias using surface electrocardiography. There is exposure to both noninvasive (including tilt table testing) and invasive cardiac electrophysiology testing. Fellows, especially in the second year through a dedicated procedural rotation, scrub in to cases and learn from faculty as well as EP fellows.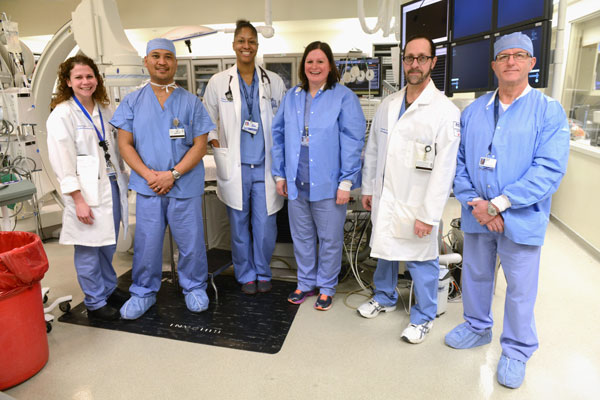 Above: A Fellow with the EP lab staff. In addition to seeing EP consults, fellows scrub in to EP procedures and perform DC cardioversions.

Above: Fellows also spend time learning how to manage and interrogate implanted devices.
Cardiac CT
ACC training requirements (COCATS) emphasize a complete approach to cardiac imaging training, or multimodality imaging. Exposure to all imaging modalities (including CT and MRI) is incorporated throughout the 3 years of general fellowship through procedural training and didactics. Additionally, all fellows have dedicated cardiac CT rotations in their third year, with the ability to obtain proficiency for independent reading/ COCATS level 2 training. Our institution prides itself on collegial and collaborative relationships with related fields, such as radiology. Our cardiac CTs are co-read by advanced imaging cardiologists as well as cardiac radiologists at the same time along with the fellow on the rotation. Additionally, fellows have the opportunity to obtain COCATS level 3 training in cardiac CT and MRI through our additional year of advanced imaging fellowship.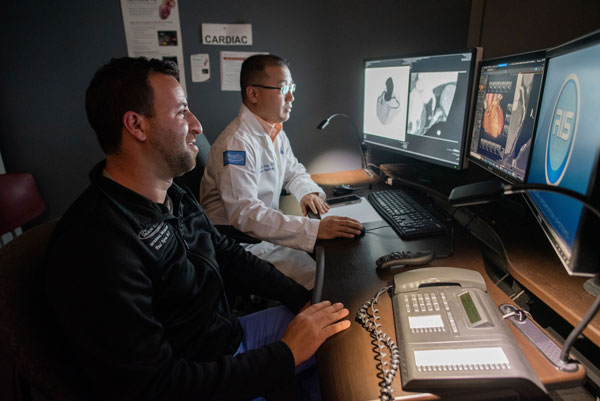 Above: A fellow reading cardiac CT with a cardiac imaging senior staff.
Structural heart disease
Our structural heart disease (SHD) program is one of the most prominent in the world. We excel in the gamut of SHD treatment options, including many that are in the research phase. We receive the most complex referrals from other in-state and out-of-state structural programs. As a fellow you will be exposed to the future of cardiology, and have the opportunity to incorporate what you learn into your future practice. Each fellow rotates through SHD during their second year, exposing them to multidisciplinary conferences, outpatient evaluations, inpatient treatment, interventional imaging, and interventional SHD procedures in the cath lab. Fellows also have the opportunity to work with internationally renowned faculty on research projects.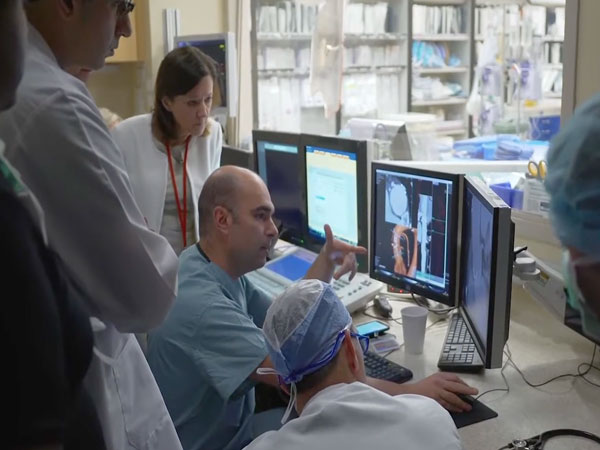 Above: A full-time SHD senior staff cardiologist teaching team members.
Research
Research and scholarly activity are integral parts of the cardiology fellowship curriculum. All fellows receive protected research time. Every cardiology fellow is expected to initiate or participate in an original research project during their fellowship that produces a manuscript for submission to a peer-reviewed journal. Fellows have world-renowned research mentors to guide them through their activities. All fellows also have access to institutional grants as well as paid biostatistics support for their projects.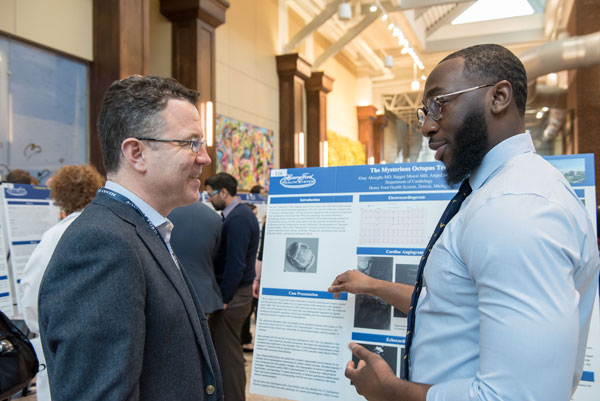 Above: A fellow presents his research during the annual Henry Ford Graduate Medical Education Research Forum.

Above: A fellow presenting her research at the national ACC conference. Fellows routinely present at regional and national meetings.
Ambulatory experience
Fellows spend one half day per week in continuity clinic at main campus or one of the core satellites (Sterling Heights, Fairlane, or West Bloomfield). Patients assigned to fellows follow them for the full 3 years of their fellowship. Fellows are staffed by one of our full-time senior staff cardiologists.
Once a month fellows will convene with their preceptor during a protected didactic time (first 30 minutes of their clinic time) to discuss a list of case-based questions pertaining to a specific ambulatory curriculum topic.
Additionally, fellows rotate through faculty specialty clinics preparing them to be well-rounded cardiologists and providing a foundation to develop their own niche in future practice or academics. Example of these clinics include cardio-oncology, vascular medicine, aortic disease, women's health, cardio-obstetrics, preventive cardiology, cardiac rehab, sarcoidosis, amyloidosis, lipid disorders, and adult congenital heart disease.

Above: Fellow and senior staff about to see a patient together during afternoon continuity clinic.

Above: Fellows and faculty during their ambulatory curriculum teaching session.