Henry Ford Production System
PATHOLOGY AND LABORATORY MEDICINE
---
"The business of management is to manage. The thing to be managed is work."
—Henry Ford
---
Pathology and Laboratory Medicine at Henry Ford Health has a rich history in providing state-of-the-art laboratory and professional support for our physicians and caregivers in diagnosing and treating complex medical conditions. Therefore, our goal is to provide the "Best in Class" laboratory services that each life deserves. We are "All for You."
As Henry Ford said in 1918, "Quality is what counts, and nothing but quality." The Henry Ford Production System is our commitment to deliver that quality to you.
Our method has been to revolutionize the culture, practice, and quality of laboratory services by adopting our founder's continual attentiveness to eliminating wasteful practices in our environment and innovating more efficient processes that focus on the needs of the patient. In the Henry Ford Production System our labs take the manufacturing and quality principles mastered by automotive pioneer Henry Ford and perfected by Toyota in conjunction with the management principles of W. Edwards Deming to build processes that go "beyond mass production." We have taken Lean concepts of good work design and melded them with an empowered and educated workforce, currently available laboratory automation and new technology to create a culture that is continuously perfecting pathology laboratory processes, improving quality and advancing patient safety.
Our understanding of the core drivers of success in the transformation to a culture of continuous improvement has matured since 2005 through our adaptation of Lean management to the integrated laboratory product line of the Henry Ford Health System.
This Henry Ford Production System has evolved as our business system that continually produces thousands of process improvements by an engaged, problem-solving laboratory workforce in our six acute care hospitals and 30 medical centers in southeast Michigan. This Lean cultural discipline and teamwork predicated on Deming management principles was the foundation on which these standardized laboratories achieved International Organization for Standardization (ISO) 15189 accreditation in 2013 as the largest ISO-accredited integrated hospital laboratory system in the United States and the only one ISO accredited in Michigan.
Numerous work and management systems have been created over the past decade to sustain our Lean culture, whose credo is "relentlessly pursuing perfection." These include subsystems for policy deployment, system-wide education and competency, plan-do-check-act (PDCA)–based problem solving, nonconformance (deviation) detection, classification, and management, controlled electronic document taxonomy and management, functional horizontal management, service-line management review, audit systems and daily management.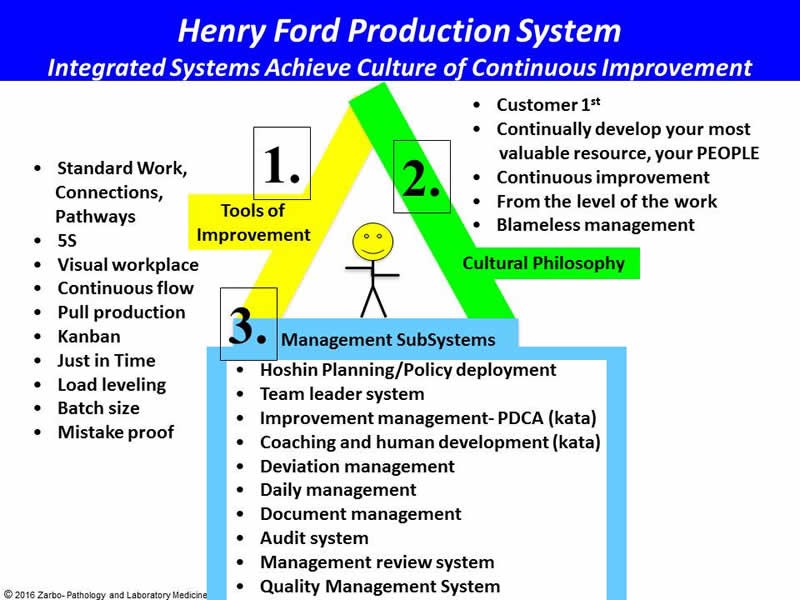 In any organization, progress toward goal achievement can come from above through major executive-directed change initiatives and technologic innovations, but progress toward daily goal achievement must come from below by managers and teams who are empowered and accountable to improve their work product or service. In the Henry Ford Production System, we have innovated a Lean culture business system that incentivizes continuous improvements at the level of the work and is continually aligned with the organization's goals.
As Henry Ford said in 1918, "Quality is what counts, and nothing but quality." The Henry Ford Production System is our commitment to deliver that quality to you.
Learn more at about our Lean course and to register:
For our 2023 courses please click on one of the links below. Course participants must self-register through the Henry Ford CME Portal using the links below. This will require you to create an account at https://hfhs.cloud-cme.com/default.aspx
We highly recommend attending this training with your fellow colleagues to establish your team.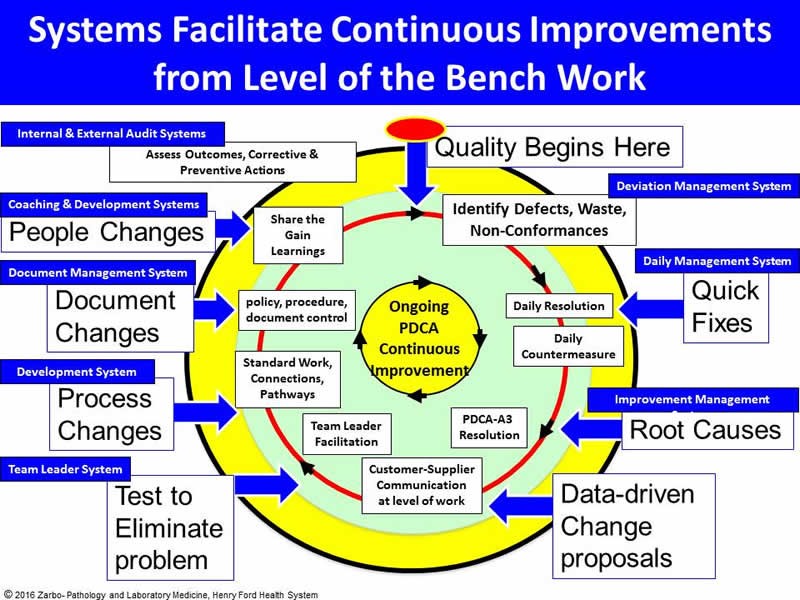 LEAN SILVER Certification for Healthcare Leaders (Two-Day)
Description
2023 marks the 18th year of the Henry Ford Production System and our experience sharing Lean for healthcare leaders. This 2-day course provides basic foundational knowledge of Deming's management philosophy for continuous improvement with human engagement at the level of the work, manufacturing-based work rules and process improvement tools derived from the Toyota Production System, supporting, and sustaining management systems derived from our Lean and ISO 15189 journey to a continuous improvement culture.
This course offers a didactic hands-on approach to Lean management with a focus not only on the tools of improvement but emphasizing the necessary development of underlying leadership and management systems and approaches that will prepare physicians, administrators and technical support staff for the realities and challenges of culture change for continuous improvement. This course qualifies for 14.5 category 1 CME hours.
Course Content
Lean Leadership and Cultural Transformation - We will review the antecedents and history and philosophy of Lean, leadership, structure, and resources required for successful cultural transformation for continuous improvement with supporting the management systems. He will share his experiences, successes, and failures in implementing a Lean culture since 2005 in the Laboratory Product Line of the Henry Ford Health System.

Lean

Fundamentals and Principles

- In this module you will learn the fundamentals of Lean thinking and methodology to identify and eliminate waste from processes to continuously improve efficiency and achieve reliability. We will review practical examples that you can implement in your own work environment.

Creating

a Team Structure for Utilization of Lean Tools and Management Systems

5S, Workplace Organization

- We will describe workplace organization methodology that uses 5S to establish, standardize and maintain a visual workplace as the initial step of a Lean system.

Process and Value Stream Mapping to Understand Workflow-

In groups we will design a VSM of your selected process as we identify non-value-added work, bottlenecks, and redundant paths. This process design will assist the team to identify one bottleneck to use during the A3 problem solving breakout session. Participants will choose one spokesperson and briefly review their real-life observations of process defects that will subsequently be developed into process improvement initiatives.

Data Collection and Defect/Nonconformance Management

Daily Management

- This presentation will demonstrate the methodology to design and sustain a focus on fixing critical work defects at the level of the work by visual management owned by divisional managers and supervisors.

Plan-Do-Check-Act [PDCA]/ A3 Writing (Method of Problem Solving)

- We will work with identified problems from VSM exercise and postulate a data-driven process improvement by formulating the problem statement, hypothesis, current and target conditions, solutions, and a guestimate of problem resolution. Breakout: PDCA problem solving A3 writing. Participants will develop a detailed A3 on a defect from the VSM exercise and appoint a group leader to report-out your improvement story to the class.

Lean Strategic Planning and Policy Deployment Management with Metrics

Kaizen

Approach to Problem Solving.

Lean Laboratory Group Tours

- The participants will tour the Clinical and Surgical Pathology labs in groups to observe Lean tools in practice and engage with the empowered workforce in Lean designed work cells and processes. Although this work may differ from your own, the principles that people employ to identify and resolve their own work problems are similar.

Designing Standard Work and Document Control

Managers Standard Work

Auditing, PDCA Effectiveness and Sustaining Mechanisms
Physicians • Healthcare Leaders • Nurses • Technologists • Pathologists • Residents • Directors • Managers • Administrators • Quality Staff and Medical Officers
Lean Silver Certification courses are held at:
Henry Ford Hospital, Education & Research Building, 2nd Floor Multi-Purpose Rooms, Detroit, MI 48202 and is available by registering at the Henry Ford Continuing Medical Education web site: https://hfhs.cloud-cme.com/default.aspx
The Henry Ford Laboratory System is featured in Dr. Jeffrey Liker's book, The Toyota Way to Continuous Improvement (2011) and The Toyota Way to Service Excellence (2017) and was awarded ISO 15189 accreditation in 2013 by the College of American Pathologists as the first integrated and the largest ISO accredited system of laboratories in the US. These laboratories serve as the ISO 15189 Center of Excellence and Learning for the College of American Pathologists.