Intensive Outpatient Program for Addiction
A six-week program to treat substance use disorder
In our Intensive Outpatient Program (IOP) you receive structured, supportive treatment for addiction (substance use disorder) in a group setting while staying at home with your loved ones. This program is currently open to adults 18 and over.
All of our patients first receive a thorough assessment. This assessment, which includes both a physical exam and a psychosocial exam, helps us create personalized treatment plans.
You may be a good candidate if your substance use disorder is relatively stable but you need additional support and structure. You may step up to the Intensive Outpatient Program if you've previously tried addressing addiction on an outpatient basis without success.
What to expect from the Intensive Outpatient Program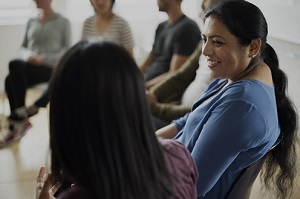 The Intensive Outpatient Program includes three treatment sessions per week for six weeks. Each session lasts three hours. We schedule individual and family sessions separately as needed. Depending on your location, IOP sessions may be held in person or virtually, using your smartphone, tablet or computer.
In addition to therapy, your treatment plan may include detoxification or medication-assisted treatment.
If you're successful in the Intensive Outpatient Program, you'll step down to our outpatient addiction treatment program for additional care. Adult patients who need more intensive support may need to step up to our 24-hour, residential (inpatient) treatment program.
Intensive Outpatient Programs are available at:
For an addiction assessment appointment, contact us:
Southeast Michigan: (248) 661-6100 or complete this form
Jackson County Area: (800) 531-3728
In response to the current pandemic, we are temporarily offering IOP at some locations virtually, using your smartphone, tablet or computer. We will resume these services as soon as this crisis is over. Learn more about virtual care for addiction.
Support During Treatment
Support from other can help your recovery. We offer education programs and support groups for you and your family.
Learn More