Find a partner in your healthcare -- from puberty through menopause.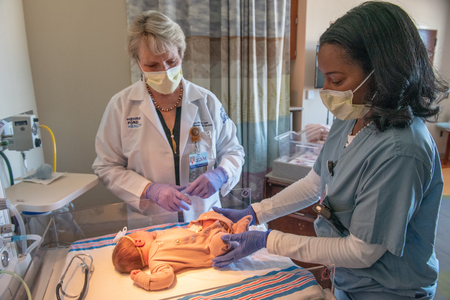 People traditionally think a midwife's job is delivering babies. While midwives offer maternity services for women seeking alternatives for care during pregnancy, that's not all they do. For over 25 years, our midwives have provided primary care to Michigan women from puberty through menopause.
Midwives approach birth, puberty, and menopause as normal life events rather than potential medical problems. They are partners in your healthcare, focusing on your physical, emotional, and spiritual needs.
Your midwife will educate and support you in making safe and satisfying choices that are right for you and your family.
What is a certified nurse midwife?
Certified nurse midwives are registered nurses and nationally board-certified and state-licensed midwives. In addition, all of our midwives have obtained a master's degree. Nurse-midwives are trained to recognize complications early, treat the problem, or refer you for appropriate medical or surgical care if needed.
Midwives believe:
Every woman deserves respect for her cultural, religious, and personal values.
Puberty, birth, and menopause are normal life events, not medical conditions.
There are benefits to family involvement.
Women can make safe and satisfying choices about their care.
Women should take an active role in their health and wellness.
Our team of midwives, gynecologists, and obstetricians work closely together to offer comprehensive treatment. We believe that a team approach provides the safest possible care environment should a medical complication arise that requires a doctor.
What services do certified nurse midwives at Henry Ford provide?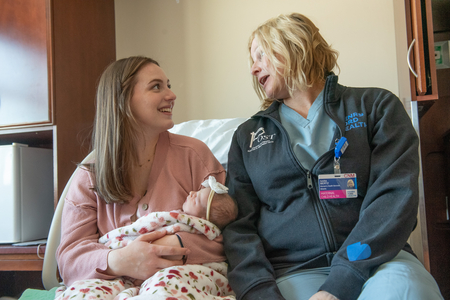 Certified nurse midwives offer a wide range of primary healthcare services to women from puberty through menopause. Our certified nurse midwives offer:
Annual gynecological exams
Birth control education and prescriptions
Breastfeeding education and support
First gynecological exam for teens, including education about their bodies and normal processes
Labor and birth management
Menopausal care
Preconception counseling and exams
Prenatal care
Postpartum care
Testing and treatment for infection, including those that are sexually transmitted