Henry Ford & the Ford family
Automotive legend Henry Ford was born in Wayne County, Michigan, in an area that later became Dearborn, on July 30, 1863. He was the first of six children. As the son of a farmer, Ford learned early the importance of hard work and discipline. His father, William Ford, was an Irish immigrant who came to the U.S. in 1847 during the potato famine. Sadly, Henry's mother Mary died before he was 13.
While Henry always was helpful at his family's farm, his real passion was machinery and mechanics, and he chose to leave farm life to pursue his passion. In April 1888, he married Clara Bryant, a local girl and the foster child of Irish immigrant farmers. Theirs was a true love story. Their only child, Edsel Bryant Ford, was born in 1893.
Clara believed in her husband's ideas and visions and confidently supported his ventures, no matter how risky they seemed. After years of inventing motorized vehicles, Henry Ford founded Ford Motor Company in 1903. Within the first few months, Ford was selling the Model A and turning a profit.
With the workforce at Ford and the population of Detroit rapidly growing, so too were the health care needs of the community. Henry Ford envisioned a hospital for Detroit's citizens. Detroit's leaders asked him to take over a stalled hospital project in the city's midtown region. He did so after receiving assurances that he could run the hospital as he envisioned. In 1915, he embarked on his first and most important philanthropic venture, an ambitious and unique experiment in health care called Henry Ford Hospital. The first meeting of the hospital's incorporators was held September 20, 1915, and a Board of Trustees was elected with Henry Ford as president and his son Edsel as vice president.
By Oct. 1, Henry Ford Hospital was receiving patients. With its state-of-the-art physical facilities, and controversial "closed staff" of physicians recruited from top training institutions and working only at the hospital, it soon gained a reputation for excellence of service and innovation in medical care.
In 1916, Edsel married Eleanor Lowthian Clay, who was raised by her uncle, J.L. Hudson, the founder of Hudson's Department Store in Detroit. From an early age, Eleanor showed an appreciation for the arts and charitable activities, directing much effort towards different causes. Edsel and Eleanor's first child, Henry II, was born in 1917 followed by Benson in 1919, Josephine in 1923 and William in 1925.
At his father's urging, Edsel took the helm as president of Ford Motor Company in 1919. He led the company through some of its most successful years. In that same year, Henry, along with his wife and son, acquired the stock of all the company's minority shareholders and became the sole owners of Ford Motor Company -- making it a family-owned business for the first time.
Despite his shrewd business sense, Henry often was overcome by his human concern for others. The children who came as patients to Henry Ford Hospital commanded his special attention. Doctors would notify him if a pediatric patient needed surgery, particularly for the correction of orthopedic problems. Even if the patient had been previously unknown to Henry, he would visit the child in the hospital and follow the case as it progressed. Many times a check for the cost of a child's treatment would be sent by Henry or Clara Ford.
Although most people know her as the wife of Henry Ford, Clara Ford was a philanthropist and community leader in her own right. Clara's interests also were served by hospital staff. One of these, Williams House, was a home for girls at risk which was established by the Episcopal Diocese in 1921 with a $10,000 gift from Clara. Doctors from the hospital visited the young women, providing examinations and treatment for venereal diseases, pregnancy and psychiatric conditions. In 1925, Henry Ford Hospital's School of Nursing was named in Clara's honor.
The spring of 1943 brought somber news of Edsel's death from cancer at the age of 49. Edsel had served as a member of Henry Ford Hospital's Board since its establishment and had been helpful in all areas of the hospital's operations during his 28 years of service.
After Edsel's death, Henry was persuaded to return as president of Ford Motor Company. However, he was never quite the same after the loss of his son. In June 1945, he submitted his resignation to the Board of Directors and in a consistent show of family solidarity, recommended his grandson, Henry Ford II, as the new president.
Henry II's childhood was intimately intertwined with the family's automobile business. As a young man, he continued the family tradition of hands-on learning, gaining practical mechanical skills in his first jobs with the company. When the United States entered World War II in 1941, he resigned from the company to join the Naval Reserve. But when his father passed away, Henry II was dismissed to inactive duty so that he could return to help with the company's contributions to the war efforts. "Hank the Deuce" - as Henry II was often called - did much to strengthen the Ford Motor Company in the postwar years, infusing the company with new blood and modern management. He also continued to maintain the company's strong family ties and philanthropic commitments, including to Henry Ford Hospital.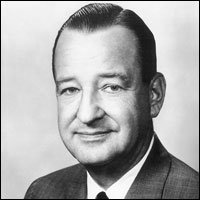 The membership of the hospital's Board of Trustees had changed during and after the war, with the death of Edsel and the election of Henry II and Benson as members. Clara Ford was still a member and Eleanor Clay Ford remained on the Board after the death of her husband. They were joined in the 1940s by Anne McDonnell Ford, wife of Henry II, and Edith McNaughton Ford, wife of Benson.
On April 7, 1947, at 83 years old, Henry Ford died of a cerebral hemorrhage. Many thousands of mourners paid their respects. At Henry Ford Hospital, the nurses were on parade in their white uniforms, like a great cloud of swans, waiting to say farewell to their founder.
Then, in 1950, Clara Ford passed away. Until 1953, seven Ford family members - the children of Edsel and their spouses - sat on the Board.
In October 1976, the hospital lost its most active friend and generous benefactor with the death of Eleanor Clay Ford at the age of 80. Eleanor had been the matriarch of her family since the deaths of her husband and parents-in-law some thirty years before and had served on the hospital Board for 53 years - longer than any other member. She was a loyal proponent of the hospital and assisted its growth in a quiet, behind-the-scenes way, often calling on friends to support it as well.
Less than two years later, her son Benson died suddenly at the early age of 59. He and his wife Edith were also generous benefactors of the hospital. He had served as head of its Board for 31 years, through some of its most important growth and development times. Henry Ford II succeeded his brother as the hospital's chairman of the Board.
As a new decade began, the hospital community mourned the loss of another long-time leader. Edith McNaughton Ford, widow of Benson, was a member of the Board of Trustees for 36 years. She made numerous financial contributions to the hospital and its programs and projects over those years. She died at the hospital on August 9, 1980, at age 60, after a long illness.
In late September, 1987, the hospital lost one of its most important champions with the death of Henry Ford II following a three-week bout with pneumonia. It was once said, "Henry Ford II was born with a silver spoon in his mouth, which he used to feed others. He did good with that spoon." Ford, age 70, had been involved with hospital affairs for more than 30 years, and had assisted and encouraged its growth throughout the subsequent years.
In 2004, Josephine Ford, the only granddaughter of Henry Ford and one of the most significant philanthropists in metropolitan Detroit history, died. She gave more than $10 million to the Henry Ford Health, whose Josephine Ford Cancer Institute is one of the largest cancer centers in Michigan and a national leader in cancer diagnosis and advanced treatments.
To this day, the legacy of Henry and Clara Ford's generosity and dedication to the hospital is carried on through their grandchildren and great-grandchildren. Members of the family, including William Clay Ford - for whom the system's Center for Athletic Medicine is named -- continue to involve themselves in the Henry Ford Health's affairs through participation in its various boards and fundraising efforts, as well as through their traditional generosity.
Photos: © Property of Henry Ford Health Conrad R. Lam Archives, All Rights Reserved