We Care Physician Wellness Program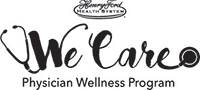 At Henry Ford Health System, we value the dedication and hard work of our physicians. We know that the hours can be grueling and the work physically and mentally demanding. A career in medicine provides amazing opportunities for joy and fulfillment, but it comes with stress that can take an emotional toll.
The goal of our We Care Physician Wellness Program is to assist physicians and physicians in training to optimize healthy coping strategies and to find a good work-life balance that will allow them to deliver high quality care to their patients and to find greater satisfaction in their careers and personal lives.
Our Approach
The We Care Physician Wellness program is run by and for physicians, and aims to help Henry Ford doctors achieve optimal health and well-being through education, training and peer support. It includes a four-pronged approach to maintaining physician wellness:
1. Timely assessment of needs using best available tools
Our physicians can access the Physician Well-Being Index, which was developed by physicians at the Mayo Clinic to evaluate multiple dimensions of distress and has been validated and widely used by medical professionals.
Once you take this self-assessment, you can also set up your preferences to receive reminders to retake the survey at intervals you specify to track your well-being over time. You can also compare yourself to physicians nationally and identify areas where you excel and others where you may be at risk.
Resources are also available if you find you need help coping or developing an area of your well-being.
2. Strategies to maintain health and wellness
We will connect you with Henry Ford Health System's employee wellness programs, as well as provide information on discounts on wellness products and services that make it easier to prioritize your health and wellness needs.
3. Sharing available resources for healing
We offer access to a wide array of resources to help you meet your emotional, intellectual, social and spiritual needs. If you find yourself in crisis or just need help coping with day-to-day struggles of career and family, we can connect you with Henry Ford Enhance, a comprehensive employee assistance program.
4. Studying and improving outcomes of programs and interventions
As new wellness strategies are developed and integrated, there is ongoing effort to measure the effectiveness of our interventions. Ultimately, our goal is to create a culture of caring and support.
Henry Ford Physician Wellness Strategic Plan
Our strategic plan aligns with our values and touches on all aspects of wellness. At the center of our strategy lies the well-being of our patients surrounded by physician vitality. Our core mission places the patient at the center of all we do but, as a leading institution, we understand the importance of the quadruple aim.
We know that with strong physician vitality we will have improved productivity, quality of care, patient satisfaction and better outcomes. This shared vision defines our culture.
There are three critical elements to our strategy:
Organizational values, behaviors and leadership that demonstrates caring, support and compassion for self and others

Processes and practices that promote safety, quality, effectiveness and team work

Personal resilience skills, behaviors and attitudes that demonstrate physical, emotional and professional well-being and lead to meaning in work